SONISPHERE
Knebworth July 30,31 and August 1
Photography by Moonshayde Photography
Photo Gallery Day 1 by Moonshayde Photography
Photo Gallery Day 2 by Moonshayde Photography
Photo Gallery Day 3 by Moonshayde Photography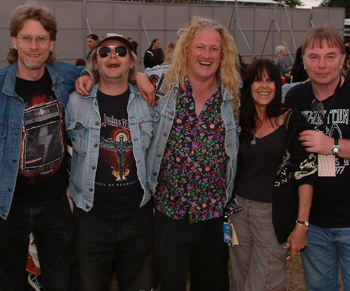 With a couple of GRTR! reviewers (and a photographer) still recovering from High Voltage the three-day Sonisphere event may have seemed formidable. In the best GRTR! traditions they took it all in their stride...
Jim Rowland writes

Friday

Knebworth - a venue steeped in rock history. Floyd, Genesis, The Stones, Zappa, Zeppelin, Purple, Queen and..er.. Robbie Williams ... have all graced this place over the years. Now that the good guys at Sonisphere have dragged it kicking and screaming into the modern era, and back to pure Rock, is it still an event worthy of the legend?

Friday eases the amassed rock hordes into the weekend by kicking off the music at 5.00, giving everyone and chance to arrive, set up and chill out before the madness commences.

The impressive Bohemia Stage, a giant, if a little too hot, marquee is my first port of call as U.S. prog sensations Bigelf get things going.
Only a half hour set allotted for them today, but Bigelf give an extremely good account of themselves. Last week at High Voltage they were amongst old friends on the Prog Stage, today they make a whole lot of new friends with the classic rock riffage of The Evils Of Rock'n'Roll impressing the metalheads who may not have checked them out before.

Black Spiders are a band spreading their web all over the place at the moment, building a loyal and dedicated fanbase. All the more impressive considering they are yet to release a full album.
Just Like A Woman, a full on rocker from their latest EP, proves why this band are kicking up a bit of an underground storm.
Like Bigelf, Black Spiders manage to weld a lot of 70's classic rock influences together, and there's a strong hint of Black Sabbath to them, but the end result is something that definitely works in the here and now.
The brilliantly titled 'Kiss Tried To Kill Me', about the singer's nightmare of Gene Simmons being after him with evil intentions, is definitely worth a recommendation. With a first album in the can and awaiting a release, expect the Black Spiders to come up and bite you in the very near future.
Photo Gallery Day 1 by Moonshayde Photography
Andy Nathan writes
Europe certainly seem hell bent on taking head on any preconceptions about them, judging by the way they followed last year's Bloodstock appearance by playing another festival full of uncompromising metalheads.
Dressed all in black and de-glammed from their heyday, they wisely stuck to heavier material such as the title track 'Last Look at Eden' and 'No Stone Unturned' from last year's album, both having a retro feel with some seventies flavoured keyboards s from Mic Michaeli, and Love is Not the Enemy with John Norum's downtuned guitar tones.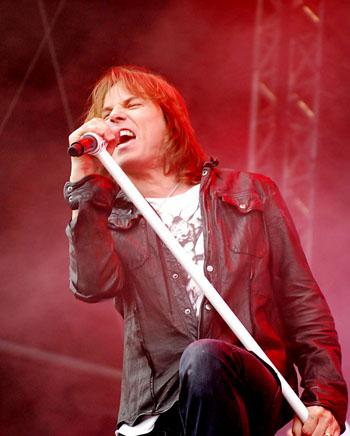 Even when they dipped into their back catalogue it was with 'Scream of Anger', reminiscent of Rainbow's 'Spotlight Kid'. However Joey Tempest got the crowd singing and clapping to 'Superstitious' and 'Rock the Night' - with a snatch of 'Heaven and Hell', while after another trip to their contemporary sound in 'The Beast', the inevitable closer 'The Final Countdown' was surely known to everyone present and had the crowd jumping up and down.
At a metal festival 20 years ago Europe would have met by a storm of urine-filled bottles, but time is a great healer, the band have certainly toughened up musically and image wise (and anyway were unfairly pigeonholed) and they enjoyed a good reaction. Let's hope further interest was generated for their 2011 tour.
Jim Rowland writes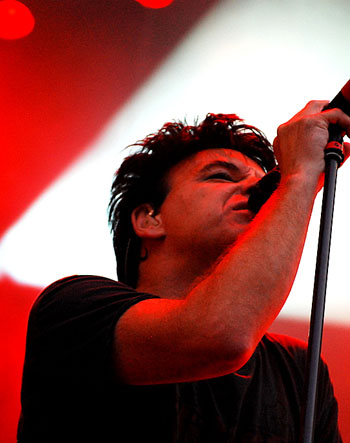 Gary Numan, sandwiched between Europe and Alice Cooper on the Saturn Stage, may have seemed like a strange choice to some, but his industrial sound goes down just fine with the crowd.
Post gig, in a chat to GRTR's photographer Moonshayde Photography, he mentioned that he was pretty nervous about how he would be received by a predominantly metal audience, but was more than pleasantly surprised by the reception.
Modern day Numan has a much more guitar-led flavour to it, and large sections of the crowd were well familiar with his newer material such as 'Halo' and 'Pure', which did get a good reception, but it was still the old hits 'Cars' and 'Are Friends Electric' that really brought the crowd to life and singing along. There's plently of life in Gary Numan yet.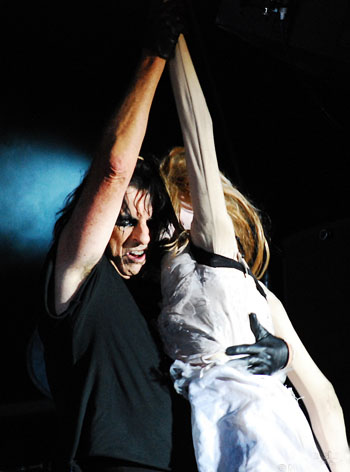 In many ways, there is no one like Alice Cooper. His macabre vaudeville show has remained essentially the same at least since I first saw him in 1987, and yet continues to appeal to new fans and he manages to span the generations.
Despite the video close ups showing him thinning a tad on top, he looks unchanged and performs with the energy of a man half his age. Maybe more of us should share a round of golf and an anecdote with Ronnie 'the prod-ucer' Corbett.
Back in the early seventies, he and his original band (still unmatched, though the current line-up are excellent musicians staying reasonably close to the original spirit) produced some of the most inventive and timeless music, much covered by others over the years.
A storming opening trio of 'Schools Out', 'No More Mr Nice Guy' and 'I'm Eighteen' provided proof of this. From then on, the set choice was built around Alice's horror show in which he must have been killed at least four times by various contraptions, and tortured by the asylum nurse Rosetta, but 'miraculously' came back triumphantly every time.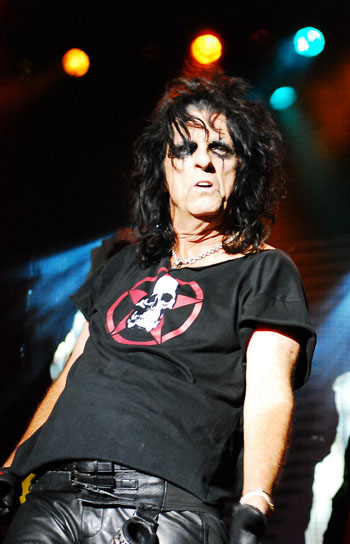 At times it is hard to follow both the stage props, the storyline and the music, but oddly it was his comeback hit 'Poison', so overplayed at rock clubs back in the day, that really impressed me in the live environment along with treats from his seventies catalogue such as the 'Ballad of Dwight Fry', 'From the Inside' and 'I Never Cry'.
After another classic in 'Billion Dollar Babies' with Alice releasing dollar bills into the crowd, 'Feed my Frankenstein' saw him joined on stage by a giant monster and just when I thought he couldn't play any more classics, he finished up with garage rock classic 'Under My Wheels'.
Even better, he came back on stage in a white suit and brandishing the Union flag to sing and ad lib through 'Elected', thankfully restored to the set after a few years away, before a reprise of 'Schools Out' sent everyone off to their campsites on a high.
For some reason, Alice has rarely been booked for metal festivals (though he did play second on the bill in broad daylight, which spoiled the impact, at 2006's Monsters of Rock). But on this evidence, however often you have seen it, he puts on a great show, with a memorable back catalogue, which benefits from taking place on a large stage as night falls. Promoters take note.
Photo Gallery Day 1 by Moonshayde Photography
Dino Gollnick writes
Friday night starts with one of the definitive festival highlights - Vincent Furnier aka Alice Cooper.
The curtain rises and the sound of a deafeningly shrill bell introduces Coop's anthemic 'School's Out'. Alice comes out twirling his baton looking like a ghoulish cheerleader and demands of everyone stand to attention and rock out!
Tonight's performance focuses heavily on Cooper's classic '70s era with the odd new number as well as the crowd pleaser 'Poison' thrown in for good measure.
The Theatre of Death tour, that tonight's gig is part of, tells the story of our troubled anti-hero's life and times on earth and the consequences he has to face for actions like murdering 'Cold Ethyl' aka a bruised rag doll that Alice beats and kicks around the stage and finally dances the tango with.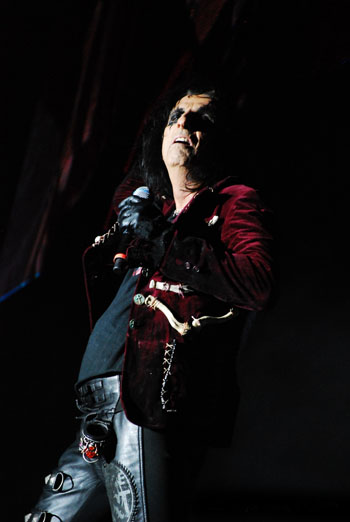 'Wicked Young Man' leads up to Cooper's decapitation by guillotine and he gets send to purgatory. But the afterlife in Cooperland looks rather fun - maracas in hands, Alice shimmies along to the tropical disco grooves of 'Go To Hell'.
Other highlights of Alice's performance are the Lennon-esque ballad 'I Never Cry' before Alice's death by strangulation, and the autobiographical re-telling of AC's time in a sanatorium - 'From The Inside' sees Alice stumble across the stage with a bottle of scotch in hand and leads into 'Nurse Rosetta', the song in which Alice gets turned on by the insane asylum's nurse, played by his daughter.
But as good as all the theatrics in this morality play are, throughout the show the focus never strays from the music, immaculately executed by Alice's band of L.A. session guys.
After a good hour and a half worth of hits Cooper sends us into the night with 'Billion Dollar Babies' for which he throws monopoly money into the crowd, 'Elected', with Cooper wearing a suit and top hat decked out in mirrors and finally a reprise of 'Schools Out'. We salute the man in make-up; he's brought day one to a glorious finale.
Photo Gallery Day 2 by Moonshayde Photography

Saturday
Andy Nathan writes
Heaven's Basement made an early appearance in the Bohemia Tent. They are now on their third singer of the year with James Sinclair the new permanent frontman. He was confident and had a strong voice, though with his mop of hair and boyish looks, he had the air of one of the schoolboy hopefuls mentored by Gene Simmons in his TV show.
Temporarily reduced to a four piece by a hand injury to rhythm guitarist Jonny Rocker (though he did come on stage to sing Paranoia, looking like a young Ian hunter in shades and curly hair), HB were still full of their usual youthful energy and gave it 100%.
Things really came together with the more intricate 'Reign on my Parade', with the crowd pogoing during the heavy phase, and closer 'Executioners Day' which rattled along at breakneck speed. With a stable line up at last, they can still fulfil their potential.
Playing their second successive festival after High Voltage, I checked out Audrey Horne (a band, named after the Twin Peaks character, not a girl singer!) on one of the smaller stages and was intrigued by the mix of styles both visually (singer in a white shirt and trousers and tie, amongst long-haired rockers) and musically - a touch of grunge or industrial here and there, but some traditional metal riffs and solos.
The Norwegians produced an interesting set though in 25 minutes it was frustrating more of it did not lodge in my brain on first listening.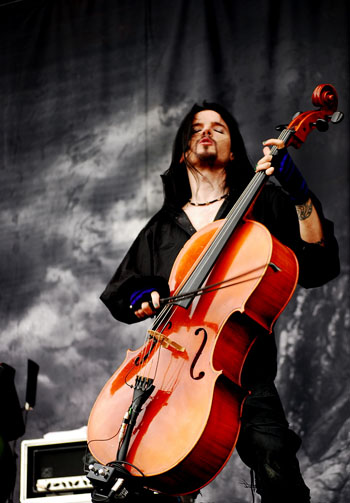 Rock music essentially revolves around guitar, bass and drums, correct? Well not for Finns Apocalyptica, who consist of a trio of cello players, propelled by a drummer.
They originally made their name covering Metallica songs and it was amusing to hear the crowd chant the missing choruses as they did instrumental versions of Master of Puppets and Seek and Destroy.
But much of the set was original compositions with a guest singer, and the biggest tribute I can pay to their skill in adapting the cellos to metal's song structures and rhythms is that by the end I had forgotten the gimmick of three cellos making the sound and was treating the songs at face value.
I would recommend catching them at least once to appreciate the clever way they have adapted new instruments to create a fresh spin on a familiar genre.
Photo Gallery Day 2 by Moonshayde Photography
Jim Rowland writes
Despite the excesses of the night before, it's an early start for GRTR!, as there is a veritable feast of old school metal to be had.

Sweden's Enforcer may sound like they released a string of early Metal classics on Neat records in 1980, but this is a young band with an obvious passion for all things NWOBHM.
You have to hand it to our Swedish friends, there's something about rock bands that come from there where they can authenticate the sound of a bygone era of rock with pinpoint detail.
It's refreshing to see a young band playing classic, straight ahead, fast hard and loud Heavy Metal to an extremely appreciative crowd.
The likes of Raven, Anvil and Exciter spring to mind as they bomb through their set, but this is a great HM band with an identity of their own.

If there is such a thing as a new thrash metal 'big four', then Huddersfield's Evile must surely be one of them. With two acclaimed albums already under their belt, this band is earning a great reputation.
Although they appear at just a little after midday, the Bohemia tent is heaving as they launch into Infected Nation. Like Enforcer, this is another young band with a passion for some old school metal.
Evile's classic thrash sound brings to mind early Metallica, Testament and Anthrax amongst countless others, but while a strong influence is undoubtedly there, they don't sound like any one of those bands in particular.
'Thrasher' is a modern day thrash classic, and the Evile hardcore following moshing at the front get a treat as the band give them 'Metamorphosis', a track never played live before. This isn't a heads down, play as fast as you can thrash band. Evile play with intelligence and ambition, and are not afraid to introduce subtler moments to their songs.
There are similarities to a Ride The Lightning-era Metallica, and if they keep progressing the way they have done, who's to say they're not going to come up with a Master Of Puppets in the near future.

Over on the main Apollo stage, Lacuna Coil's set draws heavily from last year's Shallow Life album. The band's sound has progressed from their earlier gothic metal roots, and tracks like Spellbound and Survive, whilst retaining some real power to them in the guitar department, have a strong melodic, commercial element to them. Despite a very early slot on this stage, their set is greeted very well.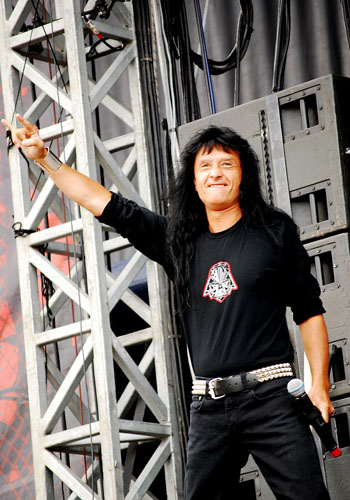 Anthrax are greeted like returning heroes to the Apollo stage. With Joey Belladonna back in the ranks, this is an Anthrax set chock full of the old classics, and the band are on great form.
The mosh pits at the front break out instantly as the band launch into 'Caught In A Mosh' and a super speedy 'Got the Time', the newest song in the set today, only going back a mere 20 years!
'Madhouse' and the old Trust classic 'Anti-Social' really get the crowd singing along before Joey dons the old Indian head dress for Indians, the centrepiece of the set.
Halfway through 'Indians', the band bring it down as Joey pays a fine tribute to Ronnie James Dio and they break into Heaven and Hell, with more crowd singalongs.
A fine tribute, and far from the only one paid to Dio during the course of the weekend. 'Metal Thrashing Mad' goes all the way back to the first album and keeps the mosh pit on their toes before 'I am The Law' beings a great set to a close.
Attending the Anthrax press conference after the gig, I learned that a brand new album is to be expected, with Joey on vocals, and if Metallica give it the thumbs up, the big four tour could be heading our way next year, so things are looking up for Anthrax fans in the UK.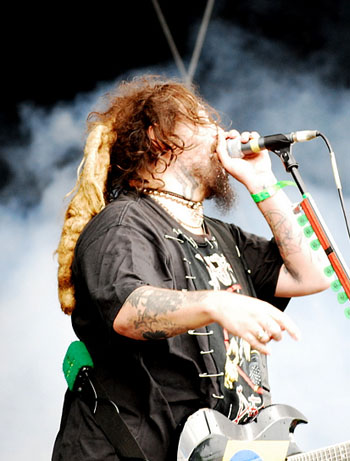 On the Saturn stage, Max Cavalera calls for circle pits during Soulfly's set, and the crowd duly oblige. Soulfly only have 30 minutes, but they use the time wisely, blasting out Soulfly gems like 'Back To the Primitive' and 'Prophecy', alongside Sepultura classics 'Refuse/Resist' and 'Roots Bloody Roots'. 'Bloodbath and Beyond' is a good taster of the latest album, 'Omen', showing Cavalera has lost none of his brutal spark.

Skunk Anansie's Skin is as hyperactive and mischievous as she's always been, and doesn't seem to have aged a day since the band's initial success in the 90's.
Big hitters like 'Selling Jesus', 'Charity' and 'Everyday Hurts' from that period get a good reaction and 'Skin' dives into the crowd during Weak.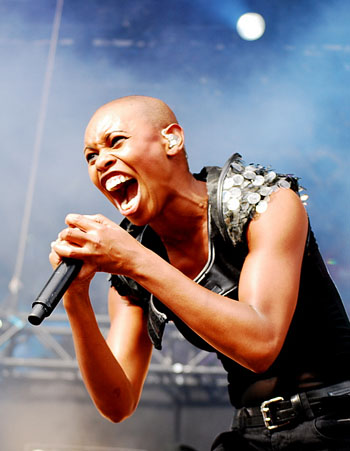 New tracks 'Because Of You' and 'My Ugly Boy' sound very promising ahead of the new album, due out in September. 'Tear The Place Up' and 'Skank Heads' up the tempo with a nice bit of punky energy. 'Little Baby Swastika' goes right back to the start to finish the set well. With the new stuff sounding good, and the band having lost none of their energy, the next twelve months will be pretty busy for Skunk Anansie.

Motley Crue have a reputation for being a bit hit and miss at festivals. Their last appearance at Download got a mixed reception, due to too much waffling and titty cam nonsense.
Today's appearance, thankfully, is short on waffling and big on churning out Crue classics. The band hit the ground running with 'Kickstart My Heart' and 'Dr. Feelgood', followed by two gems from the first album, 'Too Fast For Love' and 'Live Wire'.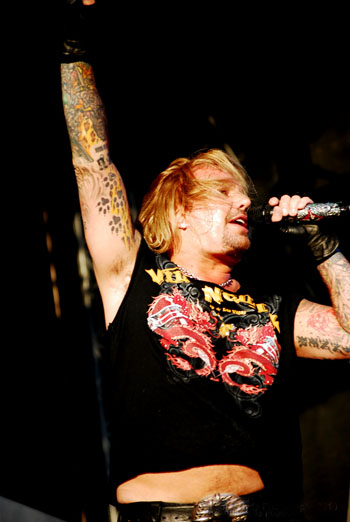 'Same Old Situation' and 'Rattlesnake Shake' also feature from Dr. Feelgood, while '10 Seconds to Love' gets a rare outing.
The is Crue in good form. Vince Neal may not be the best singer in town, but he puts in a sterling performance today, and shows why he's still regarded as a great frontman. 'Wild Side', 'Shout at the Devil' and 'Girls Girls Girls' finish the set in great style.
Motley Crue really won the crowd over today, with many people citing this as one of their favourite sets of the weekend. By cutting out the padding and giving the crowd what they wanted, an onslaught of Crue's best tracks, Motley Crue won a whole lot of friends today.

Tonight is Rammstein's debut UK festival performance. The fact that their stage show takes 8 articulated lorries to transport, means that this is going to be a huge show rather than a band knocking out their classics.
As the intro tape rolls, a huge German flag fills the stage. You have to admire their balls for doing that at their debut UK performance. The flag drops and the band are revealed amidst a stage set reminiscent of an alien horror movie.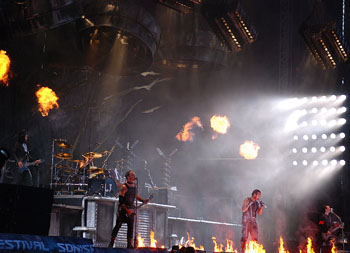 Fire and smoke aplenty, and a highly impressive lighting rig make this quite a visual feast, and that's why it must be viewed as a complete show, as if left purely to the music, this may not be quite the same spectacle.

The fact that Rammstein are the only European band to achieve major success whilst still singing in their native language says a lot, and the likes of 'Du Hast' get the crowd chanting along.
Although not speaking a word until the end of the set, frontman Till Lindemann is quite a character. At the end of the set, he floats off in a rubber dinghy and pulls out a Union Jack flag, before returning to the stage to squirt bubbles from a giant penis all over the crowd. They can only be German!
The show was billed as being two hours, but the band finished a full half-hour short, leaving some fans feeling a bit short changed. Still, an entertaining show if viewed in its entirety, but not the best of the weekend if viewed purely on musical merit.
Photo Gallery Day 3 by Moonshayde Photography
Sunday

Skindred's 'Ragga Metal' proved a huge hit at this year's Hammerfest, and despite an early appearance on the Apollo stage, it proves a hit here too. The sets leans heaviest on material from the Roots Rock Riot album, but opener 'Stand For Something', from the latest album Shark Bites and Dog Fights, proved one of the strongest. Their fusion of metal, punk and reggae is a winner here today.

For a band of Slayer's stature, an afternoon slot was a bit early, but they hit the stage with South Of Heaven in fine style.
As with a lot of the bands here, the set is full of the best known stuff, whilst still giving the crowd a taste of the latest album, World Painted Blood, in the shape of the title track and Hate Worldwide.
They are as tight and brutal as ever, and the mosh pits really take off from where Anthrax left them yesterday.
'War Ensemble', 'Dead Skin Mask' and 'Reign in Blood' provide the faithful with that classic Slayer fix, before 'Mandatory Suicide' and possibly the greatest thrash song of all, a pummelling 'Angel Of Death', bring their brief 45 minute set to a close.
Tom Araya doesn't do too much headbanging anymore, the results of a recent operation, but his vocals are still at their demonic best. As with Motorhead, you always know what you're going to get from Slayer, and they rarely let you down. They didn't today.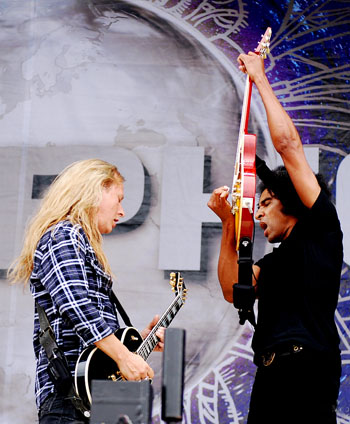 The return of Alice In Chains was welcomed by many fans last year and their appearance at Sonisphere is welcomed by many here too.
The majority of the set is made up of tracks from last year's Black Gives Way To Blue, a highlight being the twisted riffing of 'Check My Brain', coupled with quite a few from 92's The Dirt - 'Them Bones', 'Rain When I Die' and 'Rooster' all feature, along with set closer 'Would'. A good, solid, if not mind-blowing performance.

Iggy & the Stooges are the kind of legendary act every festival needs, as Alice proved on Friday night. These guys have been around for over 40 years for a reason, they're damned good a what they do and their music is timeless.
Unlike their shows earlier this year, the Stooges don't play the whole of the Raw Power album, but instead deliver an incendiary set of Stooges classics from all three albums and beyond.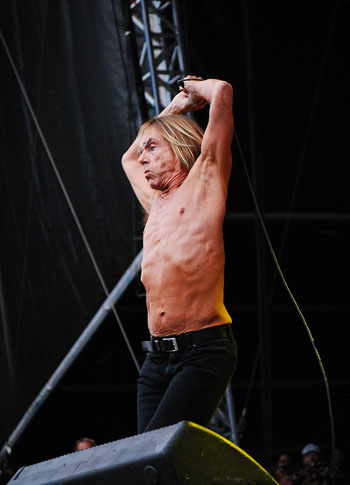 'Raw Power' and 'Search and Destroy' kick the set off superbly, as both tracks are played just that little bit faster and with an extra pinch of venom.
'Shake Appeal' features the usual call from Iggy for some of the crowd to join him on stage, although fewer make it past the security than on previous occasions.
'1970, Funhouse' and 'I Gotta Right' all keep the crowd happy, whilst 'I Wanna Be Your Dog' gets the biggest reception of the set, with Iggy getting into the crowd.
'Your Pretty Face Is Going To Hell' and 'Open Up' and 'Bleed' close the set before the band encore with 'Death Trip' and 'No Fun'.
James Williamson's guitar playing was top notch from start to finish, and Steve Mackay's meandering sax adds an extra dimension.
Iggy himself still proved why he is a legend, with a great performance. Although the crowd started to thin towards the end of the set as people drifted away to take up positions for Iron Maiden, the Stooges set was a real highlight of the weekend for me. This is pure, high energy, vicious rock'n'roll that has stood the test of time.
Photo Gallery Day 3 by Moonshayde Photography
Andy Nathan writes
First up for me on the Sunday, leaving aside a Beatles tribute band(!) were Voodoo Six who had impressed me two years ago at Download.
They were still full of enthusiasm, bassist Tony Newton with his foot on the monitor similar to his chum Steve Harris, yet new singer Luke Purdie may have sounded heavier but lacked the charisma of his predecessor Henry Rundell and the lack of hooks left me cold, until 'Long Way' finally combined heaviness and melody. Rather unmemorable I'm afraid.
Next up were The Union, who I had also caught at High Voltage. After being the main song writer for arguably Britain's best bluesy rock band of the past two decades in Thunder, Luke Morley could be on his way to creating another special band, although it is lead singer and co-guitarist Peter Shoulder whose distinctive vocals really catch the ear.
Some songs like opener 'Step Up to the Plate' are not too far removed from a less commercial Thunder, but the pair have explored the musical boundaries- on 'Easy Street' some very Jack Bruce-esque singing reminded me of Cream, while 'Black Monday' had the lolloping stride of the Doors' 'People are Strange'. They were a little out of place on the bill, but the Union promise to be one of the more interesting collaborations of recent years.
I finally got to see The Cult for the first time since 1987, but little has changed. Billy Duffy is still the master of simple, often recycled but catchy riffs, and Ian Astbury still strikes the rock star god poses - though the Northerner now speaks with an accent lodged across the pond.
More seriously, he barely bothered to sing many of the words, just randomly barking out a couple at a time.
With a couple of detours, the Cult stuck to the hits from Love, Electric and Sonic Temple, and how could those in the moshpit resist pogoing to the likes of 'Fire Woman', 'She Sells Sanctuary', 'Wild Flower' and 'Love Removal Machine'? In fact if they came back to do an indoor venue, I might be tempted to do so myself for old time's sake.
Finally Iron Maiden closed the festival, and were certainly one of my main attractions for attending. The stage set was more basic than some of their extravaganzas but the lighting was impressive, while as usual the band charged around the stage.
Bruce Dickinson was a hyperactive ringleader and his singing has rarely sounded more spot on in the live arena. However I found his stage persona rather unattractive- his Benny from Crossroads hat, his chippiness about Maiden's lack of media coverage, and the way this intelligent man talks to the crowd as if we are a bunch of prepubescent 11 year olds.
As for the set, well having seen setlists from the American tour I knew what to expect, and it probably divided opinion in the crowd as much as it has on web forums.
Citing their ever increasing popularity, Maiden chose to focus on material from the three previous albums after Bruce rejoined in 1999. With the exception of 'Wrathchild', and a new song 'El Dorado' which failed to impress me (it was just as well Bruce stated, rather oddly, it was not typical of their forthcoming 'Final Frontier' opus), they took up the first hour and a quarter of the set.
I love these albums and moving to a three guitar line up has given them the scope to write more progressive songs with more imaginative guitar arrangements.
Highlights included 'Dance of Death' with its jig-like guitar solos, 'The Reincarnation of Benjamin Breeg' where the guitars almost take off mid-section into Wishbone Ash territory, 'No more Lies' with the lights flashing in unison, and 'Blood Brothers', dedicated movingly to Ronnie James Dio's memory. The low point was 'Wildest Dreams' - surely the weakest effort in Maiden's armoury.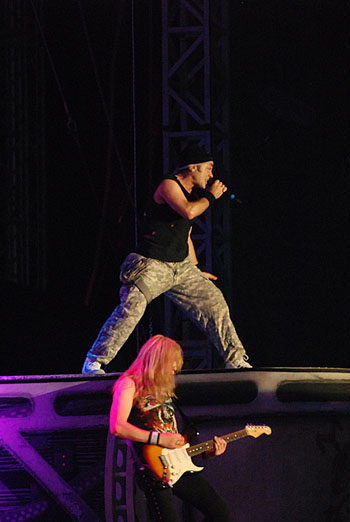 However I really doubt these were the songs that the crowd, even those that have discovered Maiden in recent years, wanted to hear. Besides this the very different dynamic of a festival, with a variety of fans and not only Maiden diehards - a fact recognised by many artists who stuck, sometimes too closely, to a Greatest Hits set.
With the exception of opener 'The Wicker Man', none of the newer songs are the fist in the air type anthems to headbang to and respond to Bruce's 'scream for me Knebworth' chants. As a result, certainly from my vantage point a distance back, the crowd seemed muted, while an inconsistent sound was not helping my enjoyment.
When 'Fear of the Dark' was finally played, it was as if a switch had suddenly been turned on, but there was only one song to go, a giant Eddie making his customary appearance during Iron Maiden.
Finally, the whole crowd sang along to 'Number of the Beast' and 'Hallowed be thy Name', reminding me what more of the gig should have been like, before the surprise of the night with 'Running Free' being restored, the ever superb Steve Harris' bass rumbling menacingly, and us traditional Maiden fans punching the air as we sang along.
The band would call this narrow minded and backward looking, but for me their Somewhere Back in Time gig in 2008 at Twickenham was so much more enjoyable and fun. But even a below par Maiden show is worth witnessing.
Maiden setlist:
'The Wicker Man'/ 'Ghost Of The Navigator'/ 'Wrathchild'
'El Dorado'/ 'Dance Of Death'/ 'The Reincarnation Of Benjamin Breeg'/'These Colours Don't Run'/'Blood Brothers'
'Wildest Dreams'/'No More Lies'/'Brave New World'/'Fear Of The Dark'/'Iron Maiden'
Encores:
'The Number of the Beast'/'Hallowed Be Thy Name'/'Running Free'

Jim Rowland writes
My overall impression of Sonisphere was a good one. This is a young festival, both in terms of the make-up of the crowd and length of time the festival has been going for.
Although not as big as Download yet, this festival is already giving them a good run for their money. Sonisphere feels a little more state of the art, and the layout of the site is extremely good.
It's easy to get from one stage to another, and the facilities are good. No faffing about with beer tokens either. A worthy modern day extension of that Knebworth legacy.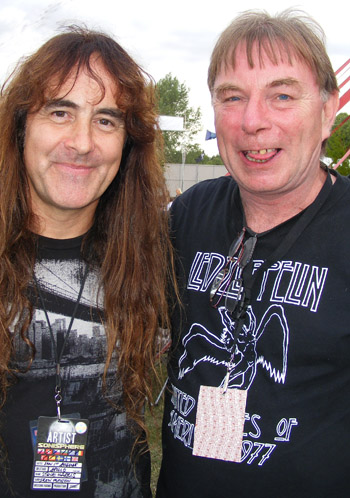 Iron Maiden's Steve Harris with GRTR!'s Noel Buckley
---
Reviews by Jim Rowland and Andy Nathan
Additional reporting Dino Gollnick
Photography: Moonshayde Photography/GRTR! All rights reserved.
Photo Gallery Day 1 by Moonshayde Photography
Photo Gallery Day 2 by Moonshayde Photography
Photo Gallery Day 3 by Moonshayde Photography
---