THE SNAP ELECT Mangled Angle Land
Smashed Records/ Pure Groove (2010)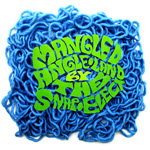 London-based quartet The Snap Elect are self-professed purveyors of PowerGum - a shiny blend of power pop meets late 60's bubblegum! This, their first long player, is available as a limited edition LP or download.
The punchy 'Years Of Brews' kicks off the marvellously titled 'Mangled Angle Land' in style - the glorious harmonies (and a lead vocal similarity on this track to Ray Davies) setting the tone for what's to come.
Driven along by Paul Needles' melodic bass, 'Heed The Call' is an organ heavy number that is on a par with the best output of psych-pop alchemists The Bees. 'Don't You Ever Breathe' bustles along with vigour, with Tom Duffin's guitar riff recalling 'Echo Beach' and a swirling Stranglers-esque organ passage from Nic Denholm.
'Monster Hit' is a magical slice of popsike, which you can't help but grin along to! At 1 minute 34 seconds it's almost over before it begins, but the band somehow manage to cram so much into it!
Jaunty cut 'My Desire' and the joyous 'Magna Fox' keep things ticking along nicely, before The Snap Elect really hit their peak with a brace of mighty tunes. The infectious 'Good In The Middle' boasts some neat keyboard playing, Barry 'Buzz' Allan's drumming at its thumping best, and a glorious break with some psych-y vocals.
The rip-roaring tour de force 'Can't Say No' is a real standout, the intro alone sounding like the theme tune to a long-forgotten 70's TV show! The brooding verses open up into a killer chorus, and the instrumentation from the whole band is the perfect example of what they're capable of; a long lost outtake from Lenny Kaye's 'Nuggets' if ever I heard one.
Fiery rocker 'Did I Do Good?' and the lighter pop of 'Catch The Wurm' lead into the dreamy piano-led 'Colours', which closes the album in a more mellow style.
'Mangled Angle Land' manages to successfully combine a retro feel with a modern day freshness - a storming debut of melodic power pop / psych, packed with harmonies, inventiveness and originality. Can't wait for the next one!
****
Review by Jim Henderson
Jim Henderson presents "Power Pop" on Get Ready to ROCK! Radio, Sunday 18:00 (first and last Sunday of each month)
---
| | |
| --- | --- |
| | Print this page in printer-friendly format |
| | Tell a friend about this page |