SIVERT HOYEM Moon Landing (2010)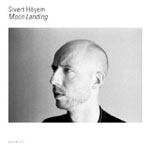 So, who the hell is Sivert Hoyem?
For those in the know, and there may not be that many on these shores, Sivert was the lead vocalist of Norway's biggest ever rock band - Madrugada. Over 13 years, Madrugada sold 1.2 million records, but when guitarist Robert Buras was found dead in his Oslo apartment in 2007, the band imploded.
Sivert withdrew to a cabin in the mountains and, also suffering the loss of his father, threw himself - with musician friends - into the creation of Moon Landing, his third solo album.
Mixed by John Agnello (Sonic Youth), Moon Landing turns out to be an absorbing and diverse record. A muso's record that spans wide sonic landscapes to splashes of West Coast rock and psychedelia.
The closest I can come to reference points are imagining Robbie Robertson crossed with REM and produced by Daniel Llanois, and with a soulful vocals that range from the deep country tones of Rory Ellis on The Light That Falls Among The Trees to the soul of Kravitz / Hendrix on the equally excellent Going For Gold.
The shimmering lead single and title track Moon Landing is a wonderful signpost for a very difficult album to pigeon hole - an intriguing record that reveals further glories with each listen. In many ways it's a throwback to better days when long players were works of art and not commercial vehicles. Listen, for example, to the superb sax work on High Society. Strongly recommended, for further exploration.
****
Review by Pete Whalley
---
| | |
| --- | --- |
| | Print this page in printer-friendly format |
| | Tell a friend about this page |