Our reviewer Abigail Suter set herself an ambitious challenge in the run-up to Twelfth Night, by reviewing a single a day. Here's her round-up of some of 2010's upcoming alternative bands.
CITY REIGN Out In The Cold

Big things are expected from Manchester lads, City Reign, this year. The 4-piece demonstrate the true meaning of indie and are not just some worn out, over-publicised band who are only in it for the dosh. "Out In The Cold" is the stunning follow-up single to bass-heavy, September single "Making Plans".

"Out In The Cold" kicks off with a plain, marching guitar rhythm which, after a short pause, is soon replaced by an instrumental that fits together perfectly and jolts you into the realisation that this could actually turn out to be a stroke of art. However simple the track appears, there is still something about it that screams 'masterpiece'. But hey, simple yet effective.

The vocals kick in after the striking introduction and immediately conjur up comparisons to the clean-cut vocal work of Billy Lunn (The Subways). The entire track is very catchy and although the lyrics tell a different story, it has a perfect feel-good, airy tone to it.

Definitely for fans of Reverend & The Makers and similar artists, these soon-to-be indie gods create the ideal rock song with their new single. *****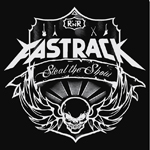 FASTRACK Steal The Show

Aussie lads, Fastrack, are the experts of conjuring up total and utter foot-stomping madness. The four-piece shove the whiny teenage boys of today to one side and release their new, 6-track EP titled "Steal The Show" in order of achieving one aim; to show the REAL meaning of rock 'n' roll.


This powerful EP kicks off with "Life Or Death", a crazy track with enough energy from the raw guitar riffs to send you absolutely loopy. The thought that immediately springs to mind is 'Metallica' yet as the song progresses, you can evidently see the influences from other bands such as Guns N' Roses and the result is a big mash up of classic rock worked to a kind of gritty perfection.

One thing that really shines through on "Never Coming Back" is the heavy use of bass drum from Ben Sarros which packs a real punch and creates a strong backbone for Brad's abrasive vocal work.

The guitar rhythms in "General Riot" become more clean and back down slightly from the previous tracks but the rest of the band members heavily compensate for this by creating a full-on thrash sound which brings back Fastrack's signature sound.

Title track "Steal The Show" is up next and fills the fourth slot on this substantial, over-the-top EP. If there's any song on this EP that gets you bopping along like a maniac, it's this one. With it's clear, contagious rhythm, it's almost impossible to resist tapping along.

"What If" follows on with the heavy theme boasting a marching riff that makes you turn into a guitar god...only with air guitar. Any rock fan will feel the urge to headbang or begin to play air guitar as soon as they press the play button.

The out-of-this-world EP concludes with "Gonna Get You", an unbelievably fast-paced track that will leave you on an energetic high and make you want more.

This insane, deranged EP will leave you bouncing off the walls and is a definite must-have for anybody who is sick of the prancy wimps who are around today. Released on the twelth of February, the day this EP comes out will be highly anticipated. ****

STUBBLEMELT Blood Money

Into double figures now, only two days left! If you want to check out any of the previous days, they are the most recent ones on my 'Portfolio' page. Had some brilliant bands so far!

Five-piece, experimental rockers, Stubblemelt formed just five months ago with the aspiration to create musical masterpieces that fall outside the stereotypical genre labels. Grime? Rock? Pop? Definitely not.
Stubblemelt have certainly achieved their aim because I cannot describe their sound with just one genre. They are due to release their debut demo very soon but for now they have the outstandingly crazy single, Blood Money, which is nothing like I've ever heard before.

The track kicks off with marching bass from Tom Marshall and a consistent, steady rhythm on guitar which fit together perfectly in order to set the scene for the following vocals. Kyle Perry's full bodied voice is reminiscent of Alex Band (The Calling) yet backed with the dynamic instrumentals, it sounds nothing like the Calling so once again, I'm finding it almost impossible to compare Stubblemelt's epic sound to any other artist.

The progression into the chorus packs a real punch as the sluggish verses deliberately jerk into a much more powerful rhythm wrenching you out of your previously lazy state. A catchy guitar riff brings the song to life and has you tapping along pretty enthusiastically only to be brought back to the earth by the beginning of the next lulling verse.

With a bit of development these guys could be BIG but you have to give them credit as they've only been together a short while and have already mastered the art of creating a truly unique track which many well-established bands have failed to do. ****
THIS IS FREEDOM Bad Company
Being an avid alt rock fan, Buckinghamshire quartet This Is Freedom are right up my street with their perfect fusion of melodic pop rhythms and a slightly more mature rock sound than most of the pop-punk bands lurking around today.

What really surprises me about This Is Freedom and makes their songs stand out from the crowd is the contrast of Jay's vocal work which is reminiscent of George Craig (One Night Only) against the instrumental which is more fitting to comparisons with the likes of All-American Rejects or Kids In Glass Houses.
This unique blend gives me hope for the pop/rock genre as it's a change from the same old unfluctuating rock which you hear on the radio day in, day out.

Even though Jay declares 'I've lost this feeling, lost my reason to fight', the upbeat pace and catchy melody of this solid track tell an entirely different story and leave you humming the tune cheerfully for days on end.

Generally speaking, this track should be typical mainstream material if you analyse each element but when placed hand-in-hand, it creates something truly the opposite which is more than pleasant to listen to. Keep an eye on these guys because when they kick off, it'll be one hell of a masterpiece that they produce. ****

Download the single free here

FLY BY NIGHT Fold

Geez guys, sorry it's so late today! Only just finished it as it's been a very busy day! Well....busy yesterday as seen as it's now the 2nd when I was meant to post this on the 1st. Sorry again guys and I hope you don't mind!


Hailing from Warwick, Fly By Night are a punk-rock four-piece with the simple aspiration of getting as many people to listen to their music as possible. Mike, Dean, Matt and Harry released their second EP under the name of 'Fold' back in September, which demonstrated clear advances since their first release.

The EP kicks off to a strong start with 'Where We're Going, We Don't Need Roads'. It's upbeat drum rhythm sets the pace for a sound that resembles Blink-182 fused together with an element of Boys Like Girls. The track provides a pleasant surprise seeing as it's only a bunch of university students; they seem to have diverted away from the stereotypical pop-punk sound and developed a distinct, professional sound.

'On The Beaten Track' follows with it's unbelievable infectiousness that has you making a fool of yourself by trying to sing along before you even know the lyrics properly. 'Four Seconds' then shocks you out of your state of madness and into a more sombre state with its lethargic feel which gradually progresses, keeping the listeners attention throughout.

The penultimate track on this carefully constructed record is 'It's Not That Easy' which combines a variety rhythms and vocal work from Mike. It is rare for the drums to stand out in a track but I have noticed that Fly By Night pull off the construction of powerful, stable and most importantly, noticeable, drumbeats which provide a backbone to their music.

'Fold' concludes with 'Take Me To Your Bed' and forgive me if I sound cliché, but they certainly have saved the best till last. It seems to have more depth than the previous tracks both vocally and instrumentally. The track regulates to a close as the pace becomes subdued and provides a perfect termination to the unfaltering EP from Fly By Night.

They certainly provide the right balance between overplayed pop-punk such as Kids In Glass Houses and raw, dirty rock such as Fightstar creating a reputable record deserving of any hype it receives. ****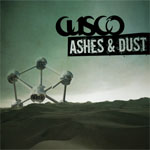 CUSCO Ashes & Dust

Cusco kicked off to a shaky start seeing the band members changing regularly throughout their early years but now they've got their feet back on the ground with a stable line-up and are creating the foundations to an album with EP, Ashes & Dust. Pulling their influences from many sources means that Cusco have created a distinctive sound which they hope will satisfy a whole range of musical tastes.

The EP opens with "100 years", a track with enough raw guitar riffs to keep the average Iron Maiden fanatic happy plus the odd dollop of steady rhythm guitar to fulfill everyone elses needs.
The main downside to this track is that the vocalist decides to play things a little too safely meaning the verses are lacking a boost of catchy melodies but the instrumentals are enough to save this track from being a little bit of a disappointment. You have to bare in mind these guys have been going through the motions of a varying line-up for most of the bands existence.

The staccato guitar of title track, "Ashes & Dust" provides a basis to the gritty vocals that seem to be a huge improvement on the previous track. One thing that I certainly get enough is the simple, raw guitar that Cusco seem to pull off so well. When you've spent most of your life plagued by over-hyped metal or whiny, mainstream teenagers the instrumentals that Cusco produce seem like a kind of spoon-fed heaven.

"In The Middle Of Nowhere" provides a blissful contrast to the rough edges of the previous tracks with a laid-back feel that leaves your head bobbing to the music. This flows into "Sweet Jealousy" which provides a much more consistent feel after the randomisation of guitar riffs in the rest of the EP.

The EP closes with "Inflammable", a fast-paced, upbeat track which flaunts Cusco's varying musical genres and gives you a rather strong urge to begin an air guitar session.

Admittedly, this won't be for everybody and they do have some room for improvement yet is still the perfect cure for those classic rock fans who have been infected by the sound of mainstream, modern rock and would prefer something a bit heavier for once. ***

AWAKEN THE EMPIRE I'll Be Gone For Christmas

Alright, halfway through the 12 days of Christmas now! It's going so quickly! Oh well, even when Christmas ends, you'll still have my ongoing stream of reviews to keep you up to date with the latest music.

Awaken The Empire are on a mission. A mission to put a stop to the endless moans of 'Not ANOTHER Christmas song!' which you get around the festive season each year. Yes, it has the word 'Christmas' in the title but 'I'll be Gone For Christmas' by the LA four-piece is far from the typical Christmas cheese that plagues the media each year.

Think Kill Hannah crossed with Tokio Hotel and then finally throw in a dollop of Slade. It's a damn odd combination but it packs a good ol' punch. If you put the idea if of it being a Christmas song to one side for now you can truly appreciate how well this track has been crafted.

The electronica influences on this band are unmistakable yet somehow Awaken The Empire manage to fuse the chaotic electro with beautiful, heartfelt lyrics as Damien pours emotionally charged vocal work into the track. 'So burn it down and melt all this awful snow' might relate to how unbelievably tiring the snow is around this season. In this case however, these poetic and sensitive lyrics create a much more sentimental meaning relating to a break-up.

The single is extremely experimental for a band who only formed back in 2009 yet Awaken The Empire pull off the experiment beautifully and create a distinctive, powerful sound. ****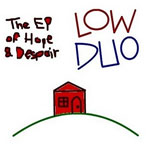 LOW DUO The EP Of Hope And Despair
Today's review was meant to be of an EP by The Gap Year Riot but being typical Abi, I managed to delete all the emails from them and now I have no way of listening to it. This has led me to switch it with the review I had planned for the last day of the project which is for the above.
Sorry for any confusion but you can check back for the review for The Gap Year Riot on the 5th of January if all works out as planned. This band are brilliant though so you should read the review and check them out. They're from Sheffield, yay!

One voice, one guitar (or keyboard). That's the strict policy of Adam and Leigh Greenwood who make up Sheffield band, Low Duo. This is modern music stripped of all the fancy effects because lets face it, music these days usually comprises of computer generated fuzzy noises and vocals so electronically manipulated that you can't tell if the singer actually has talent or not. Sometimes you just can't beat simplicity when it comes to music.

Their sound is different to say the least. 'Fifteen Years' kicks off their debut EP with an extremely melancholy tone to it which is emotionally charged yet still surprisingly calming. To say there are only two of them they can create a pretty impressive melody that fits together perfectly without any empty spaces.

'Like a Fly' is totally a stunning piece of music which can easily capture anybody's attention no matter what their music taste. That's the thing about these guys, you can effortlessly appreciate their raw talent whether you're a heavy metal fanatic, spend your days obsessing over the latest chart music or somewhere in between the two extremes.

Next up is 'I Want To Die On The Moon' which is a bit of a slow starter but certainly a grower. The keyboards in this track drone on a bit but the fetching vocal work makes up for it as well as the next track on The Ep of Hope And Despair which is entitled 'House On The Hill'. This track is one of my personal favourites with it's slightly heavier and varying guitar rhythms which give it a clear blast of energy and depth.

The EP concludes with 'It Was You And Me', a track with a very stabbing, staccato feel to the verses and a contrasting, flowing melody for the chorus. It is certainly the most diverse track on the EP showing off Low Duo's talent to pull off the composition of various music genres.

Think Mumford & Sons just a much more elegant version. One thing I have noticed about Sheffield bands is the unmistakeable vocals. For example The Arctic Monkeys sound exactly the same as The Book Club who sound exactly the same as the majority of other Sheffield musicians.
Low Duo provide an exception to this rule and show off a much more dynamic and emotional approach to creating music than any of these bands. The EP of Hope and Despair is more just The EP of Hope to me. It gives me the hope that Sheffield has actually produced a band that is different, a band that is unique. *****


AVER A Tale of Lost Souls

Louis, Phil, Josh, Ben and Chris. Five ordinary first year uni guys responsible for the formation of AVER; an alternative rock band with a fast-paced lifestyle. Forming merely three months ago back in September, the lads are doing pretty damn well having just released the music video for their brand new single, A Tale Of Lost Souls.

Listening to A Tale of Souls you find yourself tossed into disbelief. Is this band really new to the scene? Ok, so maybe they're not on the same level as similar bands such as Lostprophets quite yet but then again, bands like that have so much more experience than AVER have right now.
The one thing that really stands out about this track is how well it is structured it is. Unlike some modern rock songs that waste no time in getting to the point causing a lack of variation, AVER show off a sense of diversity in A Tale Of Lost Souls and aren't afraid to attempt the use of a slower melody in parts of the track.

The track kicks off with slightly subdued vocals and simple guitar but hey, simple isn't always a bad thing. The chorus then cuts through and provides a total contrast with fast paced instrumentals and a more powerful kick behind the vocals. The counteracting rhythms create dynamic and depth to the rather than being some mundane, monotonous, stereotypical pop-punk like you get these days.

The verdict? A brilliant first attempt from the boys that is definitely worth a listen. It will be interesting to see what the result of their first EP turns out like. It's due for release in early 2011 and I will certainly be looking out for it. ***1/2


KNIGHTS Age of Revolution

'Knights' are a powerful alternative rock band made up of three pretty ordinary guys who produce an extraordinary sound. Their new 4-track EP is quite rightly titled 'Age of Revolution' as it certainly is a revolution of sorts delivering music which fuses together many genres to create an energetic, distinctive sound. It is on a whole different level to some of the monotonous, mainstream rock music you hear these days.

The EP kicks off with 'Excalibur', a track full to the brim with forceful, kinetic energy which will leave you bouncing off the walls for the entire duration of the track. Just when you think this song couldn't get vigorous, it reaches a paramount when the chorus takes over with raw guitar riffs and shrieking falsetto.
These guys are totally and utterly bonkers but in a way that demonstrates their brilliance and ability to put together an extremely catchy and effectual track.

The listener receives a well deserved break from madness and insanity as the intro to 'Byte' begins. However, the relative tranquillity is short-lived which is evident when the latter part of the first verse progresses and the energy levels rapidly rise back to their previous capacity.

'Escape' boasts an extremely contagious guitar riff and clearly demonstrates Nick's unbelievably versatile vocal range as he effortlessly switches between falsetto and much deeper notes in a way that is extremely reminiscent of Matt Bellamy of Muse's techniques. The resemblance to the raw talent in Muse's Showbiz days is uncanny yet Knights add their own touch to create a signature sound.

Muse comparisons aside, the EP concludes on 'Dragonfly' which demonstrates a whole different side to the band as the soft melody almost transports you into a dream world.
Lyrically, this track is surprisingly deep as Nick accepts the blame for something unknown and begs for forgiveness. Although the other tracks have lyrics that are equally as dynamic, the haunting intro emphasises them in 'Dragonfly' making them much more noticeable.

Although slightly rough around the edges, this stunning EP is pretty darn impressive and before long, I'm sure Knights will have polished their sound to perfection and be worthy of playing larger venues. One things for sure, their next release will be highly anticipated. ****

Reviews by Abigail Suter
---
| | |
| --- | --- |
| | Print this page in printer-friendly format |
| | Tell a friend about this page |