SIMON McBRIDE Since Then Nugene NUG1004 (2010)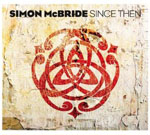 Simon McBride's 'Since Then' is an aptly titled album for a guitar slinger who has come a long way since being Guitar Magazine's 'Young Guitar Player of the Year' at the tender age of 15.
In between times he explored metal and expanded his style of playing with Andrew Strong from The Commitments. And since then? Well, he's cut a well received debut album 'Rich Man Falling'; he's honed his chops guesting for the likes of Beck, Bonamassa and Derek Trucks, and is about to tour with Joe Satriani for good measure.
It's worth recounting these biographical highlights if only to explore the origins of an album full of wide ranging bristling solos and tonal nuances. 'Since Then' is built from the ground upwards, an album full of solid riffs, melodic sweeps, searing guitar work and gritty vocals.
In terms of the old music industry's business model, it is the all important second album and doesn't disappoint. 'Since Then' is a step up with the emphasis on an emerging song writing style and much improved vocals.
Above all, 'Since Then' maps out Simon's own unique style. Yes can hear several obvious influences in his playing but he has his own restless approach that eschews any suggestion of borrowed licks or cliché. It's a gritty channelled aggression that finds expression via a melodic rock/blues template.
The end result is a consistent album by an artist who has matured towards a more rootsy approach to flesh out his hard rock credentials.
'Since Then' will undoubtedly appeal to die-hard rock and guitar fans alike. The fiery licks, unremitting intensity and well crafted arrangements showcase Simon's impressive talents. He opens with the slip sliding 'Take My Hand' and barely pauses for breath on the riff heavy 'Hell Waters Rising', a song that references both Joe Bonamassa and Julian Sas.
Very often it's the attention to detail in the arrangements, from the surprising quality of the harmony singing - as on the chorus of 'Save Me'- to an ever present melodic undertow that suggests Simon has been working on his songs. And it is the primacy of the songs rather than just the guitar playing virtuosity that shapes the album as a whole.
There's a fluent feel and a coherent thread running through the spine of this album and it is his willingness to explore new avenues that makes 'Since Then' more than just the sum of a locker full of licks. The intuitive production nicely smoothes out the edges and focuses our attention on a combination of rich guitar tones, glistening harmonies and undulating melodies.
It's a subtle meeting that on several occasions provides the perfect backdrop for a series of crystal clear solos that enhance the songs rather than dominate them. On one of the album's best tracks 'Down To The Wire', Simon employs long, lean, expansive guitar lines punctuated by brief flighty note flurries. It's a radio friendly blues ballad on which technique meets feel full on. Just as the title suggests he's burning it 'downto the wire'!
For the rest, he slips into 'Be My Baby', an angular, stop-time shuffle groove, full of spiky guitar and a cool echo laden vocal outro. He also adds some earthy slide riffs and a brusque tempo change on the Rory influenced 'From The Other Side'. And while the latter doesn't quite make the most of the claustrophobic spring coil dynamic, you can feel an adventurous spirit at play.
'Tear Down Your Soul' is a much more fluid effort full of understated power and features the Joe Gooch era, Ten Years After guitar/organ axis and some well judged double tracked vocals that give the chorus a weighty presence.
On 'Dead Man Walking' Simon slips from busy rhythm to potent lead guitar while 'Sweet Angel' is another radio friendly effort 'Coming Home' is another highlight, opening with just voice and acoustic before switching to a tough vocal and electric lead over lashing of percussion. The minute attention to detail is evident in the sumptuous tone colour as exemplified by the ullean pipe sounding outro.
As on many parts of this album it's the rise and fall of the melodies and the tones and textures that impress. Simon has a good ear for muscular grooves and he sings with unrestrained passion while his solos are focussed and full of intent on an album that never settles for the easy option.
'Since Then' is a boisterous but coherent account of an up and coming rock/blues guitarist working his way up to the next level. This is one for the collection.
****
Review by Pete Feenstra
---
| | |
| --- | --- |
| | Print this page in printer-friendly format |
| | Tell a friend about this page |