SHELBY LYNNE Tears,Lies And Alibis Proper (2010)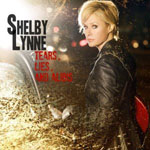 While her recording career dates back 20 years and 10 studio albums, it wasn't until she broke out of the 'traditional' country straightjacket and started ploughing her own furrow that Shelby Lynne got her deserved breakthrough with I Am Shelby Lynne (1999). After 13 years and six albums the album led to a Grammy as 'best new artist'.
Sadly, the perhaps stronger follow up - Love, Shelby (2001) and her two subsequent releases - Identity Crisis (2003) and Suit Yourself (2005) - have only met with mixed reception, although there's no doubting the lady's star quality - the ability to deliver a song from the heart. Her magnificent cover of Rainy Night In Georgia on Suit Yourself being a case in point.
Her last outing was a cover Just A Little Lovin' (2008) - a tribute to the late Dusty Springfield, produced by Phil Ramone was her highest charting album and you can see the appeal of that project - there's definite similarities between the two artists in vocal tone.
But Tears, Lies, And Alibis is a return to what she does best - being a very fine singer songwriter. And with the increased independence of her own record label she serves up a vintage 'live in the studio' album. With the help of a couple of the Swampers from Muscle Shoals - David Hood (bass) and Spooner Oldham (Wurlitzer, Rhodes), and Rick Reed (drums), Bryan Owings (drums/percussion), the set is a triumph and has been hailed as possibly the strongest of her career.
Personally, I think that overlooks the strength of some of her output since I Am Shelby Lynne, but there's no doubting her ability to deliver a smoky, sultry heartfelt line.
From the almost physical hurt of Alibi - the tale of a cheating husband, through the bluesy Old Dog - a wonderful number with shades of Dylan and Lindsey Buckingham, to the haunting Like A Fool backed by some lovely piano work by Mark Jordan, Tears, Lies, And Alibis takes you on an intimate and emotional rollercoaster. It's like a love affair gone wrong - it hurts, but boy, the highs are worth the pain.
****
Review by Pete Whalley
---
| | |
| --- | --- |
| | Print this page in printer-friendly format |
| | Tell a friend about this page |