SEAN TAYLOR Walk With Me (2010)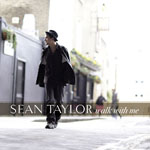 As the needle hit the opening track - Perfect Candlelight - a delicate piano lament with breathy / hoarse vocals my initial thought, underpinned by the sleeve note thanks to Whispering Bob and the BBC, was ''here we go again, another David Gray wannabee'.
I was very, very wrong. Yes, Walk With Me - Sean Taylor's fourth album - will appeal to David Gray fans, but it will have much wider appeal to those who appreciate singer songwriters and just great music generally.
As the album moves into Hold On - a bluesy number with some wonderfully subtle playing and production you begin to appreciate the gem you're listening to. With the exquisite trading of electric guitar, Hammond organ and harmonica lines the production is kept deliberately sparse and the effect is stunning.
On the slow and broody Slow Dance, Sean throws some Neil Young style harmonica into the mix, but once again the space between the notes count for as much as the notes themselves. The dreamy title track pulls off the same trick with some lovely beautiful piano, electric guitar and pedal steel parts (courtesy of BJ Cole) before Michael Buckley adds some sax lines that have the same impact as those on Gerry Rafferty's Baker Street.
An interpretation of a Shakespeare sonnet is equally dramatic with some exquisite cello playing from Vyvienne Long, while the bluesy Feel Alright ups the tempo with Taylor's Hammond trading lines with Michael Buckley's sax in a zone that has a late 70's jam feel that is just so right.
So High relies solely on vocals, acoustic and handclaps, while For You has yet more sublime sax. And if the brilliance of this album was still in doubt a quite amazingly percussive interpretation of She Moved Through The Fair - with yet more breathtaking electric guitar, Hammond and sax interchanges - leaves you wishing it would carry on into infinity.
The album closes with the gentle Poets with some lovely interplay between the piano, cello and bass (Trevor Hutchinson, who also merits special mention for the brilliant co-production), and a final bow from the main man on Fare Thee Well where he supplies vocals, acoustic and dobro guitars and harmonica.
The whole concept of Walk With Me is 'less is more'. Every note counts and every note is just about perfect. 'Masterpiece' is a word often used inappropriately, but in this a case the quality of the musicianship is as fine as anything you'll hear this year. Or any other year, for that matter. I'm simply amazed that Sean Taylor has stayed under the radar for so long. I've only got one piece of advice - 'buy this record'.
*****
Review by Pete Whalley
---
| | |
| --- | --- |
| | Print this page in printer-friendly format |
| | Tell a friend about this page |