SAM GOPAL Escalator Esoteric (2010)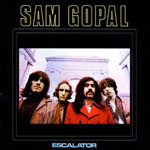 Sam Peckinpah more like. These guys look like the first chosen for his ugly epic The Wild Bunch - even the misnomered Pretty Things looked less threatening.
Briefly counter-culture darlings of the late 60's underground scene, this four-piece - named after their Malaysian percussionist - laid 'Escalator' down in a blur of excess in 1968 and while it commands eyebrow-arching sums in original vinyl format these days, probably scared most of the horses back then.
Ian - later 'Lemmy' - Willis's squalling lead guitar depth-bombs Gopal's pattering Indian hand-drums in an original conjugation of ethnic instrumentation and psych blues. It's a hit-and-miss affair: opener "Cold Embrace" is commandingly mordant, Lemmy's low vocal has drama even if it is a tad shaky and the blitz is counterpointed by slow-burners like "Grass" and the acoustic "Evergreen".
But the novelty of stoner tabla wears to reveal a pervading, stupified primitivity in these stripped-to-bare performances that makes for a downer. "I wrote every song on that album in one night on Methedrine," explains Lemmy before jumping into the sun of future infamy by way of Hawkwind and Motorhead, fans of which will doubtless dig context here.
**
Review by Peter Muir
Peter Muir presents "Progressive Rock Fusion" on Get Ready to ROCK! Radio, Sunday 19:00, Monday 19:00
---
| | |
| --- | --- |
| | Print this page in printer-friendly format |
| | Tell a friend about this page |