Just witnessed your best live gig?.. send us a review!
RUSH 'Beyond The Lighted Stage'
Soho Hotel, London 24 May 2010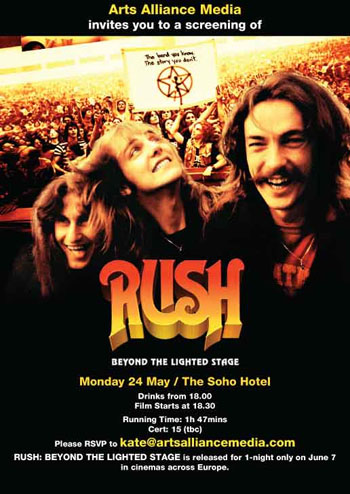 Back in 1968, two young lads by the names of Gary Lee Weinrib (Geddy Lee) and Aleksandar Zivojinovic (Alex Lifeson), both offsprings of families migrating to Canada after the end of WWII, decided to form a rock band by the name Rush.
Forty two years and a staggering eighteen studio albums later, the Toronto-based power trio is still live and kicking and preparing the release of a documentary DVD with the working title 'Beyond The Lighted Stage'.
Having become a massive fan of their music since their amazing opus 'Counterparts' (1993), I accepted with great pleasure the opportunity of preparing a review for the London premiere screening of this documentary - a screening that took place at the quite impressive Soho Hotel, located in central London.

Having finally arrived at the venue (no thanks to the tube), I made my way to the cinema area where without any unnecessary intros/presentations I and my fellow music journalists were plunged into one and a half hours of Rush magic, reminding ourselves why we all fell in love with the music of this band in the first place.

Rush are well know for having the most loyal fans in the world, many of whom follow the band around the world every time they go on tour and who know more about the history of Rush than the band members themselves.
To these people, this documentary will not have many interesting new stories to reveal, but the impression that I got while watching the film was that this was not what the co-writers Scot Mcfayden & Sam Dunn had in mind anyway.
Just as in their previous two documentary works 'A Headbanger's Journey' (2005) and 'Iron Maiden; Flight 666', the focus was on creating an easily accessible movie that is as much informative as it is entertaining and its real value is in the tones of archive photos and footage spanning the band's long career, as well as in the interviews conducted with the musicians themselves, the members of their families and many well-known artists such as Gene Simmons (Kiss), Kirk Hammett (Metallica) and Sebastian Bach (Skid Row).
The flow of the film was steady and relaxing, the cinematography was of the highest possible quality, the band members were relaxed and clearly enjoying the whole process.
In fact, there were many occasions where the whole cinema exploded in laughter from either what was being shown or said. I could spend hours writing about all the interesting and funny moments that made me enjoy watching this documentary so much, such as where Neil Peart describes 'Moving Pictures' as the album which witnessed the birth of Rush or where Gene Simmons was commenting on the band's backstage antics in the late 70s, but there is probably not much point in doing this.

What you need to know is that 'Beyond The Lighted Stage' is a very interesting and well-crafted film that will appeal not only to the band's loyal fan base but also to all those who are interested in finding out how it is possible for an outfit as cult and commercially-unmotivated as Rush to sell out huge arenas, thirty six whole years after their first album came to light.
On the 7th of June, this Rockumentary will be screened in thirty three cinemas across the UK, so those of you who live and breathe all things Rush know very well what you will be doing that Monday night.
As for me, I will eagerly await its release on DVD, as I looking forward to investing in another one and a half hours of fun and good quality music!
Review by John Stefanis
---