Essential expose of classic Rush albums...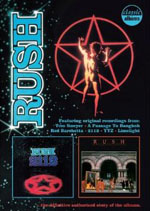 More in the Classic Albums series, two in one here, and for good reason; one album defined the band in the 70s, the other in the 80s. Rush are one of Canada's top music exports and mixed progressive rock with power.
Through band interviews, producers, manager, other musicians, you get comments on top of live clips, it's a lot of good history.
The DVD takes us back to the late 60s when the band were still at school, influenced heavily by British bands of the time. Clips of tracks from the eponymous debut show that, with nods to Cream and Zeppelin, before the prog influences and new drummer came in. The Fly By Night album is highlighted as it was after the band were signed but with a lot of hard work, the band failed to make it and very nearly split. 2112 was their shot at just going for it, and how it all came off.
The construction of 2112, the title track filling side 1 of LP, is detailed, including the controversy the band suffered with the lyrics. The basic tracks for most of the album were recorded almost live, the raw power mixing with the aggressive take on prog rock well.
The crowds started to come to see the band in droves, yet the press still didn't get the band at the time.
1981's Moving Pictures is deconstructed in similar fashion, the album moving on from previous album Permanent Waves, nodding in a more commercial direction. While 2112 saw the band rejuvenated in the 70s, Moving Pictures remains one of the band's most successful and most popular albums. With "YYZ" and "Tom Sawyer", the album always features heavily live.
Tracks are played live and deconstructed by band members and the produced alike in the studio.
This is a real insight to this super talented progressive power trio, and two albums most rock fans should own or at least be acquainted with.
And running at nearly 2 hours, this features over 50 minutes of bonus material not part of the original broadcast.
Enjoy.
****
Review by Joe Geesin