Candid portrait of Canadian rockers...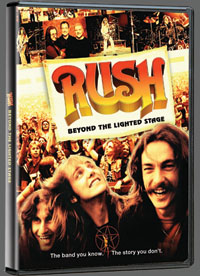 It's about bloody time! Excuse the way I chose to express my sheer frustration over the fact that it took thirty three whole years for the music industry and the rest of the world to finally recognise Rush - a band whose sheer musical quality and contribution to Rock music is second to none, but their 'phenomenal' mistreatment has annoyed me for many years!
OK, a star on the Hollywood Walk of Fame, placed on the legendary avenue on the 25th of June 2010, may matter little to the Canadian trio, but to us, the fans, it is the best possible vindication! We feel vindicated for believing in these talented musicians, for having supported them in their long and commercially-free musical quest and for feeling inclined to continue to do so every time a new album is scheduled to be released.
Based on all the above, I cannot think of a better way to celebrate this great achievement than through the release of a biographical DVD entitled 'Rush: Beyond The Lighted Stage'.
A few months ago, I had the pleasure of attending the official London screening of this film, the review of which you can find in the reviews section of our site. Most biographical DVDs, just like this one, tend to rightfully focus on the history and antics of the band in question, but none of the music biography DVDs that I have watched and owned was as enjoyable and well-directed as this one.
The filmmakers Scott McFayden and Sam Dunn were smart enough to realise that the people who will be interested in this release pretty much know everything that there is to know about Rush in terms of their history, so their focus was placed instead on providing the band's perspective of things through the interviews included and also to bring to the surface all the unique aspects of their character, such as their creativity and their great sense of humour.
This is indeed the reason why I found watching this material to be an enjoyable experience the first time round - which was repeated to the same degree when watching the DVD in the privacy of my living room!
What was never clearly conveyed to us attendees at the London screening (well at least to me personally speaking), was the fact that this release would feature a second disc with bonus stuff - strange, as the material in question is very rewarding indeed.
There are sixteen different sections for you to enjoy featuring the band's search for the venue where the first Rush gig ever took place and their reflections over the way albums such as 'Hemispheres' and 'Roll The Bones' came to life...all the way to providing vintage live performances of 'Working Man' and 'Best I Can' featuring John Rutsey on drums and latter day performances of classics, such as 'YYZ' and 'Far Cry'.
The chapters that I found to be more exciting were 'Hobbies On The Road' and 'Dinner With Rush At A Hunting Lodge' - the former because it clearly portrays how hard life on the road can be and what it takes for artists to do in order to get their minds off things and the latter as it proves what a great sense of humor this these three guys really have and how well bonded they have become as friends rather than as just members of this band.
At the end of 'Dinner With Rush At A Hunting Lodge', Geddy Lee mentions the fact that he warned the filmmakers of 'Rush: Beyond The Lighted Stage' about how successful the project would be by saying: 'Don't be surprised when you discover how boring we really are!'. Well, I am sorry, Geddy, but this is the one thing ever coming out of your mouth that I will not support you on!
This documentary is both informative and entertaining and has been created by fans of Rush for fans of Rush, with the hope that many more people will get to appreciate it along the way. There are a few documentary DVDs in my collection that are currently collecting dust having only enjoyed a single screening - this is certainly not one of them! I watched this DVD ten times prior to writing this review and it is an absolute certainty that there will be many more to come in the near future! A great release fitting for a great band!
*****
Review by John Stefanis