ROY SCHNEIDER Erleichda Shiny Gnu SG101(2010)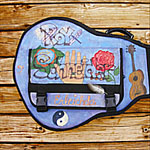 This is an album full of pleasant surprises. In fact it is much weightier than merely pleasant as Roy settles on tales of the self, the imagined, the possible and the heartfelt over an array of musical imperatives that perfectly fit the songs.
The album title is borrowed from a Tom Robbins novel 'Jitterbug Perfume' and apparently means 'lighten up', which nicely expresses the mood of a delightfully engaging album. The author tells us the music was 'conceived or developed while watching miles of beautiful southern scenery roll by from the passenger seat of the tour van'. And it is this life on the road that provides him with an impressionistic album full of stories told in a style not unlike Harry Chapin. Roy Schneider's music is like a sparkling bright early summer's day, not to hot and full of a good time vibe with an indefinable optimistic breeze in the air. And like the best Americana music should be, he combines a compelling mix of narratives and instrumental beauty over 12 penned songs and a closing love song, 'Brokedown Palace' by the Grateful Dead.
Aside from his music Roy is apparently a cartoonist but it's his observational lyrics and an inherent ability to bring to life situations and feelings over some superbly played musical accompaniment that marks him out in the vanguard of contemporary singer-song writers. Whether it's a combination of his acoustic and Keven Alland's fiddle playing on 'South in the Summertime', or the hot club vibe of the very catchy 'On Hill Time'; 'Like a 1930s animation, where everything in the world just springs to life You fill my imagination on hill time... When I'm runnin' on hill time', Roy's songs bob, weave and meander as all good stories do as if part of a bigger design. 'On Hill Time' simply bristles and there's never a note or phrase wasted, with Roy's insistent guitar and banjo picking matched by the wonderful Charlie McCoy on warm toned harp and Keven Aland's sinewy fiddle.
'Strange Wind' is another perfect blend of rootsy melodic rock as the sound is fattened by Kim Mayfield's drifting organ alongside more potent fiddle. The rich harmonies are coloured by a subtle use of echo in possibly the most lushly produced song on the album. With its uplifting melody, delicate percussion and punctuated cymbal splashes, 'Strange Wind' is very radio friendly and a fair barometer of the current musical values.
But there's so much more, including the country feel and intricate patchwork of banjo, mandolin, fiddle and harp of 'Let It Shine'. It's the kind of song that could easily have been the work of JJ Cale. Roy adds more splendid guitar picking and flute on the beautifully judged melodic instrumental 'Dancing with a Horse', on an excellent example of paying due attention to an album's sequencing, its core dynamic and flow. And among many quietly delivered perceptive observations, Roy sums things up nicely in their simplest terms on the fiddle led, subtle brush strokes and rhythmic acoustic of 'Life Keeps Moving'; 'I remember when I was a little boy, life was just for joy' The world was a cul de sac and a big crabapple tree'.
It is this sense of wonder and happiness with his lot that lies at the core of his work. He expresses a similar sentiment on 'Living The Dream'; 'I'm learning how to find the silver lining, even on the blackest cloud Livin' in the light and leavin' all the dark behind me - barefoot and proud', while on 'Carriage' he ruminates on the passing of time; I guess I've reached a place where I just stop more often and consider my mortality This ain't a song about getting old, it's just reflections of my soul on reality'.
There's a textured blend of country rock, folk, gipsy jazz and shades of the blues on this CD as well as melodic rock. And it's all anchored by Roy's keen sense of sense of a strong melody, the value of harmony singing and his inherent ability to craft a song. 'Erleichda' is a real delight filled with a joy de v ivre matched by musical excellence. When Roy Schneider casts his perceptive poetic gaze on life its well worth paying attention. For as his himself sings things aren't necessarily as complex as we sometimes think. 'Keep it simple, everything don't have to be a drain No need to blow it all up into something that it ain't'. This is an album well worth purchasing.
*****
Review by Pete Feenstra
---
| | |
| --- | --- |
| | Print this page in printer-friendly format |
| | Tell a friend about this page |