RONNIE WOOD I Feel Like Playing Eagle Records (2010)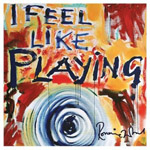 Once one of music's most loveable rogues, following a spate of bad publicity- and let's face it, some strange drunken decisions- Rolling Stones' guitarist Ronnie Wood looked like he was throwing it all away. However, now back on the straight and narrow he seems to be putting all that right. Pre-Stones band The Faces have reformed (almost, legendary front man Rod Stewart's place has now been taken by Simply Red's Mick Hucknall) for festival dates and will allegedly be touring in 2011, he has a weekly radio show on Absolute and has just released his 8th solo album 'I Feel Like Playing'.
Named after one of his paintings, which also graces the front cover, the album features a host of guest players such as Slash, Flea (RHCP), Billy Gibbons (ZZ Top) and Faces colleague Ian McLagan, and is a real return to form. Raw, honest and emotionally charged at times, this album is right up there with the best of Wood's solo output over the last 35 years or so. Featuring some great guitar playing throughout, as you would expect, the album also features Stones backing musicians bass player Darryl Jones and singers Bernard Fowler and Blondie Chaplin-hell, he even ropes in Waddy Wachtel and Ivan Neville from Keith Richards' band The Expensive Winos.
'I Feel Like Playing' is kind of like a massive musical tapestry, with each song nicely blending in with the next. Opening with 'Why You Wanna Go and Do A Thing Like That For' - a slower number with vocals that have a Dylan type feel to them, you also get upbeat rockers like 'Thing About You', 'I Don't Think So' and 'Lucky Man'- the latter featuring some very Stones like guitars- talking of which, track 'Fancy Pants' could easily have been an out-take from their recent 'Bigger Bang' album, all that is missing is the Jagger vocals.
There are also a couple of reggae tinged tracks 'Sweetness My Weakness' and 'Catch You'- done just the way Keef does it, and a couple of slower tracks with a Black Crowes feel to them- a band mainly influenced by his day job- 'Tell Me Something' and 'Forever' , the latter could easily be a message to ex-wife Jo. 'I Gotta See' is a big, soulful, Stones style track, whilst 'Spoonful' is a nice slice of soul/funk.
Overall, 'I Feel Like Playing' is a great album, easily Ronnie Wood's finest solo effort for years. Just one thing bothers me, after several listens- please tell me that Mr Richards is an uncredited guest on this album, I am sure that I can hear him on at least half the album- if he ain't on there it really goes to show that Wood and Richards really do play as one.
Cheers Ronnie, long live your musical genius.
*****
Review by Nikk Gunns
---
| | |
| --- | --- |
| | Print this page in printer-friendly format |
| | Tell a friend about this page |