Story of 1972 fan favourite...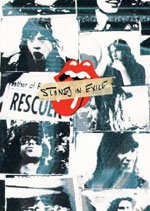 Using archive footage and recent interviews with members of the band, 'Stones In Exile' tells the story of The Rolling Stones and how they made the recently re-released 'Exile On Main Street' album. Some of the footage was seen in a recent BBC broadcast, however, this extended documentary contains much more material and the bonus features are worthy of a DVD on their own.
Upon its original release in 1972, the album was well received amongst fans but met with mixed receptions amongst the press. Now almost 40 years on, the album is hailed as possibly some of the band's best work. One of the bonus features is 'Exile Fans' in which the likes of Jack White, Sheryl Crow and producer Don Was, amongst others, discuss their love of the album. There are also extended interviews with various band members and a feature where Mick Jagger and Charlie Watts return to Olympic Studios and Mick's former mansion, Stargroves, where some of the album's earliest sessions took place before moving on to Keith Richards' rented villa in the South of France.
Re-mastered footage from both the legendary Stones film 'Cocksucker Blues' and concert film 'Ladies and Gentlemen...The Rolling Stones' has been used in the documentary and fans will no doubt be wanting to know if and when these 2 DVDs will be released- I for one am keeping my fingers crossed.
Although the band's Nellecote recording sessions have become known as almost the epitome of rock and roll excess, there is not enough talk of the darker, more decadent side of things- and it feels a bit like some of this is being brushed under the carpet a bit.
'Stones In Exile' is a very good documentary and a great companion to the 'Exile On Main Street' album. Without a doubt The Rolling Stones created one of the greatest albums of all time during their time in exile but, for me- as a lifelong fan and collector, I would have liked to have seen all of the band's line-up from that era interviewed together- or even better jamming through some of the tracks from the album, that would have been awesome. Right, I'm off to crank the album up.........
****
Review by Nikk Gunns