RHAPSODY OF FIRE The Cold Embrace Of Fear (A Dark Romantic Symphony) Nuclear Blast (2010)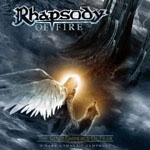 Italian metal band Rhapsody Of Fire have already blown me away with a strong contender for 2010's album of the year (The Frozen Tears Of Angels), and now match it with the second album this year. And what a cracker it is. Yes it would be very early to give it full marks and walk away now. Very. But let me justify it first.
This album continues with part IV of the ongoing story that started with Symphony Of The Enchanted Lands II and, as the title suggests, has a darker edge to their brand of Operatic Melodic Speed Metal. And before you argue 'power metal', this has so many more dimensions. Not to mention more narration from the legendary Christopher Lee.
The album opens with a rockfall befalling our travellers, and a narration, both of which wouldn't sound out of place in Lord Of The Rings, before the music builds in symphonic fashion. The is a gothic touch to the choir vocals, augmented by some solid metal pounding rhythms, before some hard crunchy guitars come, which fade to acoustic and accompany some strong vocals.
The album features several short tracks, with lots of narration, but the album's centre piece is the 15 minute 'The Ancient Fires Of Har-Kuun', riffs aplenty, speed metal augmented by operatic choir, layered vocals, layered guitars orchestral moments, it's all there. There is a burst of guitar in the style of what Beethoven played in the shopping mall in Bill & Ted's Excellent Adventure.
Not only is this album fun, it is also dark and moody, it has melody, power, a story, atmosphere, many operatic and symphonic dimensions, blistering guitar, strong operatic metal vocals. So well crafted, you can't listen to specific songs, the whole thing is an experience.
*****
Review by Joe Geesin
---
| | |
| --- | --- |
| | Print this page in printer-friendly format |
| | Tell a friend about this page |