THE REX CARROLL BAND That Was Then, This Is Now Retroactive RAR7899 (2010)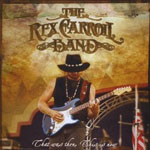 Given the album title and the front picture of Rex in cowboy hat and cut away T-shirt with guitar in hand, you are immediately primed for some fiery guitar playing with real attitude. But the question is does Rex deliver? And the answer is a resounding yes, for this former 80's Whitecross, Christian metal star is a skilled guitarist who is schooled in the very best traditions of Mid-West rock-blues and soul.
Rex goes wherever his guitar playing takes him. He dips into southern rock, Texas boogie and fleetingly metal, though he contents himself with moments of impressive shredding that doesn't overstay its welcome.
But 'That Was Then, This Is Now' doesn't fall into the traps of cliché or recycled riffs, but rather draws on Rex's love of passionate southern rock with a soulful heart and topped with metal nuances.
The CD title is an apparent reference to his Nashville recorded bluesy debut album on which his ideas weren't necessarily matched by corresponding results. He summarises that experience by saying; 'I'm really a Texas guitar slinger, you know, living in Chicago'.
This album has no such worries being a well produced piece of work by a performer at the height of his powers. 'That Was Then' suggests that Rex has found his own equilibrium born of his exhilarating playing and well crafted songs. We are listening to a consummate player who leads his powerhouse trio beyond their immediate musical environment in a successful step up the next rung on the ladder.
Rex opens with some wild slide guitar and revved up riffs as he slips into a muscular groove with an opening salvo of notes that mixes blistering technique with a melodic sharpness. He extends these qualities on 'Circle of Love' along with a raucous Johnny Winter style vocal and some brief outrageous shredding. And just for a moment you think he's going to shred himself into oblivion Satriani style on 'Foolsgold'.
But happily it's a brief showcase for his awesome technique and the instrumental works well as a link into the very ZZ Top sounding 'Working Man Blues'.
So far so good, but you wonder where else can he go beyond this point? The answer lies in a switch to the more southern sounding stop-time rhythms and undoubtedly Skynyrd influenced 'Walk a Mile'. There's a real fluency to the whole album and some mesmerising guitar playing that glues it all together. And while the songs are strong and the playing intense, the music has enough feel to match his incendiary chops, as he switches tone and moves easily from cutting riffs to searing slide in the blink of an eye.
This is a well balanced, superbly played rock album tinged with a southern bluesy feel and a vocal style that is never strained. The album may not break new ground and is perhaps an example of (matured) 'old wine in new bottles'. Nonetheless, this cd has real crossover appeal, especially for rock fans who like their guitar heroes with a big tone, a melodic bent and a mellifluous voice, not unlike Led Dudek.
Rex toughen things up on another Skynrd sounding 'Whitch Dr. Bones' and extends his repertoire to some hard core boogie on 'Delta Memories' which is full of bluster, raw edged vocals, a pounding drum track and lightning fast solos.
On the slow burning, southern influenced 'My Train', Rex sings 'I've seen my train in the distance, pulling round the bend, I ain't sure where its going I'm gonna ride it to the end'. It's almost a metaphor for his music, on a CD with a powerful undertow that pulls the music in different directions. 'My Train' has a gospel feel and a southern rock sweep that The Outlaws would be proud if. The weird mid-number chord neatly offsets a closing climactic solo that is the epitome of all that is good in a great southern tinged rock record. Check it out and don't rest til you find it!
*****
Review by Pete Feenstra
---
| | |
| --- | --- |
| | Print this page in printer-friendly format |
| | Tell a friend about this page |