RAYBURN Rayburn Psych of the South 4502 (2010)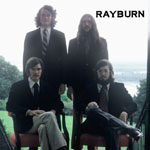 As the heartfelt liner notes explain Rayburn is no ordinary band. Initially formed in 1970 in Little Rock, by the keyboard player Steve Stephens as a spiritual quest - hence the duality of the name, ie. light (Ray) and dark (Burn) - this album in effect took over thirty years to see the light of day.
And while through a mix of negative parental intervention, the shocking death of guitarist Jimmy Roberts at barely 21, and the result of having been turned down by Steve Cropper's label, the band's music never really saw the light of day back in the 70's.
This belated release came about through the continued efforts of original members, family and friends who have ensured the band's musical legacy lives on. So what are we to make of music that for the most part is rooted in the early 70's?
Well, there are plenty of Proggy elements as you might expect as Steve Stephens dominates on his organ. But while there are several interesting staccato, stop-start instrumental segments, it isn't until the ballad 'Songbird' that the band really strikes bass.
An uplifting ballad sung with conviction and warmth, the band help build up a fitting finale to a great song. Certainly Rayburn's lyrical conviction is strong throughout, particularly so on the meditative, almost hymnal 'Got To Get Ready to Die'.
On 'See My Eyes' the harmonies evoke early Wishbone Ash, and the riffs are of their time, while there's a David Crosby style, West Coast feel to the vocals of on 'The Rail is Gone' - the song that the band presented to Cropper back in '77. There's also a cool organ break in the middle but like much of the music here it stops and starts without fully exploring the melodic possibilities.
The same influences hold sway on 'Said, I Love Only You' and 'Hey Friend' and put in the context of the early 70's there are hints of Gentle Giant, and Jethro Tull, especially so on 'Saltless Tears'.
For the rest, there are occasional glimpses of Yes and Focus and the like, but there's too much clutter and fragmentation and not enough instrumental breaks as on 'Your Mind (Doubt)'. Look no further than the basic groove of 'Working My Way Upstream' which is circumvented, twisted and turned by some intense but obtuse soloing.
Outside of the emotional pull of the band's history this album will probably only interest die-hard collectors of early 70's prog rock, but still Rayburn serves up as fine reminder of an era when music was played with both spiritual as well as musical commitment.
***
Review by Pete Feenstra
---
| | |
| --- | --- |
| | Print this page in printer-friendly format |
| | Tell a friend about this page |