RAMASES Glass Top Coffin Esoteric (2010)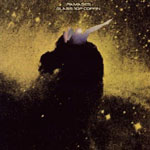 Prostrate thyself reader and marvel at the major label A&R policies of the late '60s. After all, if an Egyptian Pharaoh (and former PT instructor) with a guitar appeared asking for a deal, well - you would sign him, wouldn't you? CBS did (briefly) and so did hip Vertigo when Ramases (or Martin Rafael from Sheffield as his mum would have known him) and his wife Dorothy (now renamed Selket after the Goddess of cures) drew up the plans for 1971 debut album 'Space Hymns'.
Its Roger Dean cover of a rocket emerging from a church spire suggested freaky prog-rock but the outcome was closer to psych folk. Undeterred by low sales, and post- an enigmatic hiatus in Felixstowe, of all places), the label went with this 1975 follow-up, a further conceptual outing to dwell on space and spiritual themes. And a sad, sweet thing it is.
Spoken word intersperses gentle melody, Ramases' pleasant voice soft and fluting and with sensitively-drawn support from members of the Royal Philharmonic Orchestra, the offer is reminiscent of cult contemporaries Bill Fay and Pearls Before Swine (albeit without Tom Rapp's pronounced lisp).
A melancholy pervades 'Glass Top Coffin', notably on 'Saler Man' and 'Only the Loneliest Feeling', and but for the title track - progressive pop outweighs rock by a long margin. A few listens in, and you realise how much work went into this trippy treasure chest of poignant heart-searching. But further consumer indifference drove Ramases into retreat, sadly taking his own life later that decade, and leaving Selket to disown most of what had elapsed. She should restore her faith: this is a fine legacy, rightfully-restored.
****
Review by Peter Muir
Peter Muir presents "Progressive Rock Fusion" on Get Ready to ROCK! Radio, Sunday 19:00, Monday 19:00
---
| | |
| --- | --- |
| | Print this page in printer-friendly format |
| | Tell a friend about this page |