Just witnessed your best live gig?.. send us a review!
THE QUIREBOYS
Jazz Cafe, London 23 April 2010
Photos by Noel Buckley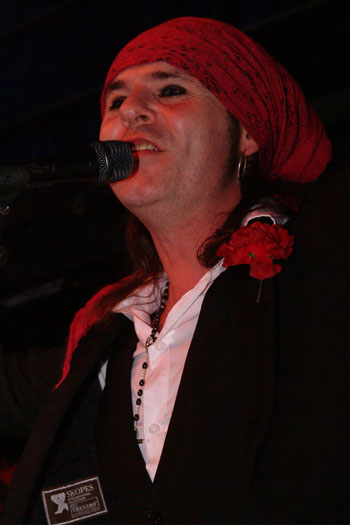 The latest release from the Quireboys is an acoustic offering called 'Halfpenny Dancer'. An album full of new arrangements of Quireboys favourites but not the obvious ones and a couple of wise choice cover versions. Tonight with a little help from some friends the Quireboys are a 9 piece band playing an Americana acoustic vibe with violin, mandolin, lap steel guitars, dobro and piano filling out the sound.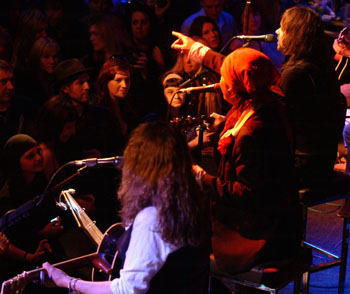 Quireboys are at the plush Jazz Cafe in the heart of Camden, with some dining upstairs with their wine, this is the perfect setting for this style of entertainment. With Spike being in jubilant mood as he enters the stage, ''What about Newcastle United then?'' cheering on his team who had just been promoted to the football league premiership. Some wag replies ''West Brom'' to which Spike replies ''West Brom! same strip nah talent'', from the off ,this is Spike's party.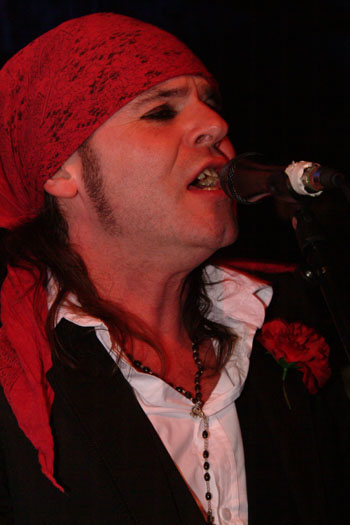 Starting off with a bit of what we fancy in 'There She Goes Again'' Spike then holds his glass aloft proclaiming he's off the booze, but his glass of coke looked a little diluted with something to my eyes.Three songs later Spike is drinking from a bottle of Tuborg lager. I drank to that.
Dedicating a song to uncle Phil, the band did an enchanting cover of the UFO classic 'Love To Love' completely unrecognizable from the original except for the lyrics, this reworking must put a smile on Phil Mogg's face, although the UFO frontman was in fact uncle to former Quireboy bassist Nigel Mogg.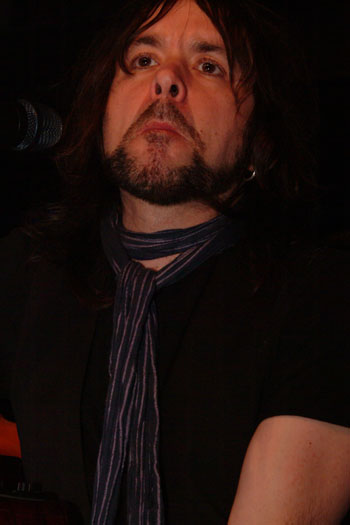 'Pretty Girls' is another good choice brought out from the vaults that was originally a B-side. Spike is happy to ramble on between songs and when Guy Griffin has had enough he interupts and introduces the next song. Blyth spartan Paul Guerin is happy to keep quiet concentrating on his soulful playing.
'Can't Stop Loving You' was a slow number which sounded like one of Rod Stewart's best pieces of work but it wasn't until towards the end of the song that i realised it was the smash hit for Leo Sayer back in the seventies. One of the best songs of the night.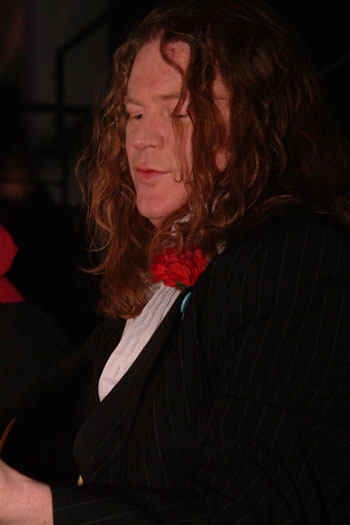 Spike acknowledges those dining up on the balcony, ''How about passing down some of your wine? I'm running out of drink down here.''. Dedicating a song to his father 'King Of New York' was another heartfelt number. Glasses were raised to Frankie Miller for a cover of 'Bottle Of Whiskey' which was another top Scotch num.....er hic ... sorry ,top notch number.
It time for a party at the end of the set with a big sing-a-long for '7 O'Clock'. Encoreing with 'Have A Drink With Me', ''It's St.Geordie's Day Today'' Spike rightly says followed by a couple of tunes from the rather good 'Homewreckers & Heartbreakers' album in 'I Love This Dirty Town' and ''A song that is guaranteed to get you a shag...no! it's not Sex Party', 'Late Night Saturday Call'.
With the smash hit ballad 'I Don't Love You Anymore' rounding off the night, this was a highly professional set. Did I just say that about the Quireboys?

Set list: There She Goes Again / Devil Of A Man / Mona Lisa Smiled / Love To Love / Roses & Rings / Hello / Pretty Girls / Hates To Please / Can't Stop Loving You / He'll Have To Go / Misled / King Of New York / One For The Road / Bottle Of Whiskey / 7 O'Clock

Encores ..Have A Drink With Me / I Love This Dirty Town / Late Night Saturday Call / Long Time Comin' / I Don't Love You Anymore
Review by Mark Taylor
Photos by Noel Buckley
---