THE QUEBE SISTERS BAND Timeless Fiddletone Records CD0101 (2010)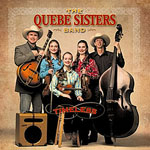 You might take umbrage with the title and you may snub some of the more MOR efforts here, but there's no denying the bristling harmonies and virtuoso violin playing of the Quebe Sisters, Grace, Sophia and Hulda. And while the sisters open with a late 40's cowboy song they offer a wide enough appreciation of their popular American song ancestry not to get too bogged down in country.
'Shame on You' by Spade Cooley 'the King of Western swing' sees the girls stepping out with a solo or two. And while several tracks do come a bit too close to The Andrews Sisters harmonies, the redeeming feature on an album crammed full of unashamed nostalgia for western mythology is that the Quebe Sisters Band strike a good balance between the radio friendly three part harmonies and their instrumental virtuosity. And it is the fact that their collective violin playing is given enough room to let the numbers swing and make you dance with delight that makes 'Timeless' an approachable album.
Indeed arguably two of the best efforts here are when the sisters tackle jazz standards like 'Take the A Train' and the later' Air Mail Special'. The violin triumvirate coalesce thrillingly on 'Take the A Train', confidently emulating the original horn lines while on Charlie Christian's 'Air Mail Special' they solo with purpose and bring light and shade to a number best known for Ella Fitzgerald's Scat singing.
But if you are to offer a balanced view of an album that aims to reinterpret the historical American popular song book then look no further than how they tackle The Sons of the Pioneers material. Tim Spencer's 'There's A Rainbow Over The Range' is treated with due reverence while Bob Nolan's 'Tumbling Tumbleweeds' concentrates wholly on the vocals.
But let's be serious, if the delicious harmonies can tackle the romantic songs of the Roy Rogers cowboy film era without a trace of irony, they must have something. Similarly if 'Twin Guitar Special', imbued as it is with the ghosts of Leon McAuliffe and Eldon Shamblin doesn't get you up dancing, nothing will. The sisters also offer variety of the Celtic kind on the Scottish Country dance medley 'Speed The Plough'.
And as if to show how much thought has gone into the album, they finish on violinist Charles Kenny's 'There's A Gold in the Sky'.
Much of this music will only appeal to country fans, but when the sisters swing, they bring alive the musical lineage linking Bob Wills to Asleep at the Wheel, living proof that rock and roll is forever rooted in its country antecedents.
****
Review by Pete Feenstra
---
| | |
| --- | --- |
| | Print this page in printer-friendly format |
| | Tell a friend about this page |