PO' GIRL Follow Your Bliss (2010)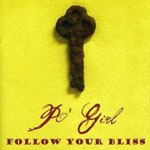 Po' Girl are a Canadian four piece who deliver their own particular brand of 'urban roots' folk music, and Follow Your Bliss is their fifth album - recorded in Chicago under the watchful eye of co-producer Zach Goheen.
While the album features a swath of guest musicians in the form of JT &The Clouds, it's core is built around the multi instrumental and multi vocal talents of Allison Russell (vocals, guitars, banjos, clarinet and glockenspiel), Awna Teixeira (vocals, accordion, bass, guitars, banjo, glock and harmonica), Benny Sidelinger (dobro, banjo, Wurlitzer, bass and backing vocals) and Mikey 'Lightning' August (drums, percussion, piano, Wurlitzer and backing vocals).
The album kicks off in magnificent fashion with Kathy, a subtle banjo finger picking piece with a lovely melody underscored by delicate horns and crowned by Allison Russell's blues infused vocals. It sets the scene for the album that is packed with tantalising folk / country / jazz interplay, in particular between guitars, banjos and the clarinet.
It's a formula the band have honed with almost constant gigging across four continents and 13 countries, in the process playing festivals as far afield as Cameroon, Australia and Europe.
Recorded on one inch tape, using vintage equipment Follow Your Bliss has a warm intimate sound that observes the 'less is more' and 'feel is everything' philosophies of music making. Fans of the indie folk /country genre that has spawned bands like The Be Good Tanyas and Nickel Creek will love it. Well worth exploring if you value the genre and quality playing.
****
Review by Pete Whalley
---
| | |
| --- | --- |
| | Print this page in printer-friendly format |
| | Tell a friend about this page |