Newly-reformed band's 2005 gigs...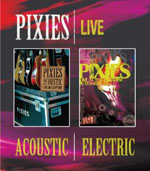 This new live DVD unites two previously released Pixies live DVDs. Following the band's reforming in 2004, the shows were both recorded in 2005 - the acoustic show at the Newport Folk Festival and the electric at an intimate club gig for 200 diehard fans at Bostonís Paradise Club.
The acoustic set features 22 tracks, which actually work surprisingly well acoustically - the only downside to this gig is some pointless in-band banter before they start playing, this may be the humour of frontman Frank Black, but this still feels a little unnecessary. The band goes down well with the festival audience though, the acoustic guitars of Black and Joey Santiago are driven by the drums of David Lovering and some heavy acoustic bass courtesy of Kim Deal and tracks such as 'Bone Machine', 'Ed Is Dead', 'River Euphrates', 'I Bleed' and 'Nimrodís Son' are all highlights of the set. However, it is the bandís best known song 'Monkeys Gone To Heaven' that really sets the show alight.
The Electric gig is a completely different kettle of fish- it is easy to see why Nirvana and so many of the grunge bands in the nineties cited the band as an influence as it is evident from their live show exactly how much of their live sound has been enveloped by the genre. There are many highlights amongst the gigs 29 songs including 'Winterlong', 'Into The White', 'Something Against You', 'Dead', 'Subbacultcha' and 'Planet Of Sound' - the list goes on, however, it is 'Monkeys Gone To Heaven' that steals the show once again.
Bonus material includes a show from October 1986, just months after the band formed, shot at TT The Bears in the bandís native Boston. The footage may be rough and of bootleg quality but you have to remember that this was a home recording made nearly 25 years ago. Many of the songs featured in that 12-song set still make the set list of Pixies gigs today. There is also a featurette which features rehearsal footage for the Newport acoustic show.
Fans of The Pixies are going to love this DVD.
****
Review by Nikk Gunns