TOM GALLEY/PHENOMENA Blind Faith Escape Music (2010)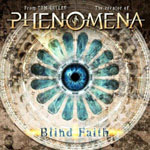 Tom Galley returns with another instalment of the very enjoyable Phenomena series of albums. This new album marks a sad event though as it is the first oen withour the input of his brother, former Whitesnake/Trapeze guitarist Mel Galley who sadly passed away in 2008.
Unlike the earlier albums when the likes of Glenn Hughes, John Wetton and Brian May guested this one has some top names still but maybe not quite the rock legends of old. On vocals we have Mike DiMeo (Riot/Masterplan), Rob Moratti (Saga/Final Frontier), Ralf Scheepers (Primal Fear), Tony Martin (ex-Black Sabbath), Robin Beck, Mikael Erlandsson (Salute/Last Autumn's Dreams), Chris Ousey (Heartland), Steve Overland (Overland/Shadowman/FM), and Terry Brock (Strangeways/Giant). The backing musicians contain some top drawer players including Saga's Ian Crichton, Tommy Denander and FM's newboy Jim Kirkpatrick.
The Phenomena theme of good vs. evil is still running through the lyrical content and what we really need now is a big stage show to showcase all these albums. Anyway enough dreaming of big shows the songs on here are of a very high standard with only the title track struggling to find its way, although the vocal of Rob Moratti is not what you'd expect, he delivers a much more rougher vocal that the high pitched vocals he is known for.
Robin Beck really packs a punch on 'It's Over (I Was Gonna Tell You Tonight)', one of those slow building songs that she does so well. Hats off to Tom Galley as he picks the vocalists perfectly to suit the style of the music, none more so that Tony Martin blasting out on 'Liar', a song that could easily sit on the first two Phenomena albums.
Other highlights include the instant melodic rocker 'One More Chance' with Terry Brock on vocals and Steve Newman on guitars/backing vocals. 'Angels Don't Cry' just shows what a very talented vocalist Mikael Erlandsson is. The intensity of his vocal performance comes though load and clear on this one.
Buy with confidence, as bar the slight blip on the third album, these series of Phenomena albums have melded the best of hard rock with more AOR/melodic fare. With a bit of luck we will have another instalment in a couple of years time.
****½
Review by Jason Ritchie
---
| | |
| --- | --- |
| | Print this page in printer-friendly format |
| | Tell a friend about this page |