PFM River Of Life (2-CD) Manticore (2010)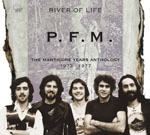 Of prog's many manifestations, Italy has long held a passion for the symphonic where neo-classical treatments in the filigree twitter of the baroque counterpoint seismic Wagnerian roars. Of many indigenous talents, none made as much impact globally as Premiata Forneria Marconi, named somewhat unprogressively after a local bakery and abbreviated by the time the band came to the attention of Emerson Lake &Palmer on an A&R talent scouting expedition for their own new label Manticore.
Compositionally, the talented five piece drank heavily from the waters of early Genesis and fellow travellers Gentle Giant and Black Widow with elements of King Crimson perhaps inevitably in its debut for the label, Photos of Ghosts, produced and with lyrics, for the first time in English, penned by Pete Sinfield.
River of Life, subtitled 'The Manticore Years Anthology 1973-1977', takes its name from one of the strongest tracks on the album and exemplifies PFM strengths in fusing Gabrielesque vocals into sweet flute and violin passages swept on to drum-rolling coda swathed in melodic synth and mellotron.
Disc One of this 2CD set bags highpoints from the UK and Stateside hit debut and follow-up The World Became The World (including the latter's emotional rush of a title track) and live album Cook, while Disc Two picks at 1976's Chocolate Kings and the band's last release for the label Jet Lag, by which time American funk (also prevalent in late Gentle Giant) crept into the band's work.
Previously unreleased material reveals a band that rocked, too, notably at a Nottingham 1976 gig's barnstorming rendition of exuberant live fave and Photo opener, 'Celebration'.
PFM had two Italian albums under its belt when the band came to the attention of ELP and continued recording after their label folded but the memorable moments are to be found at Manticore. River of Life precedes the reissue of PFM's recordings for the label and as an introduction to the band at the height of its powers is, in a word, fantastico!
*****
Review by Peter Muir
Peter Muir presents "Progressive Rock Fusion" on Get Ready to ROCK! Radio, Sunday 19:00, Monday 19:00
---
| | |
| --- | --- |
| | Print this page in printer-friendly format |
| | Tell a friend about this page |