PARADE The Fabric Voiceprint (2010)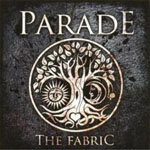 'The hills are alive with the sound of - prog'. Well nearly, but it is the sound that's echoing from the valleys of South Wales - an area that has already contributed to two of the cream of this year's prog releases to date - Panic Room's Satellite and Karnataka's The Gathering Light. And with new albums imminent from The Reasoning and Magenta, 2010 has the makings of a vintage year.
It's not true what they say about the Welsh and inbreeding (or their eye for a good looking sheep) but you'd need a Pete Frame rock family tree to untangle some to the cross fertilisation of ideas and personnel that's currently taking place in the nu prog arena.
Parade is the brainchild / solo project of Fish and former Mostly Autumn guitarist Chris Johnson. After 18 months of touring Fish's 13th Star album, Chris dusted down a backlog of songs and set about putting together Parade - an ensemble of like minded individuals in the form of Anne-Marie Helder (Panic Room, and Mostly Autumn) on vocals, Gavin Griffiths (Fish, Panic Room and Mostly Autumn) on drums, and long time mates Simon Snaize (guitar) and Patrick Berry (bass). There's also guest appearances by Bryan Josh (Mostly Autumn and Breathing Space), Heather Findlay (Mostly Autumn) and Olivia Sparnenn (Mostly Autumn and Breathing Space).
What emerged was The Fabric, an album more 'progressive' than many of the bands of its contributors - an experimental adventure with delicate vocals, demented guitars, and backwards glockenspiels smashed to bits in a modulating filter and fed out through old TV speakers.
In many ways I was reminded of the experimental early days of King Crimson - avant garde textures intricately woven together, purposefully steering clear of the more melodic blueprint deployed by many of the current crop of nu prog bands.
On first listen, I really wasn't sure. But with each subsequent listen the individual facets of the songs begin to emerge as the layers are peeled back to reveal moments of inspiration and shimmering beauty. And after five or six plays, I was hooked. There's far more depth to The Fabric than a cursory listen suggests and it's an album that you can listen to again and again, and find something new to appreciate each time.
Written, recorded and produced by Chris Johnson, The Fabric an album to be persevered with and cherished.
*****
Review by Pete Whalley
---
| | |
| --- | --- |
| | Print this page in printer-friendly format |
| | Tell a friend about this page |