OZZY OSBOURNE Scream Columbia (2010)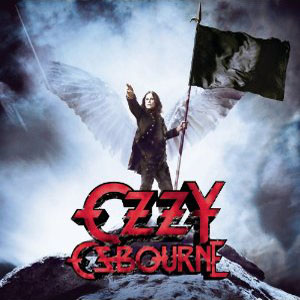 'Scream' reaffirms Ozzy as one of the great icons of heavy metal and like that other longstanding persona, Alice Cooper, he always seems to graft on an excellent producer/collaborator and a crack band to his basic rock sensibilities.
And just when you thought that those sensibilities may have been dulled by the passage of time, along comes one of the most vibrant metal releases of 2010.
With new guitarist Gus G adding a more fluid melodic heavy twist to the proceedings, those that feared Zakk Wylde's substitution are permitted a long and welcome sigh of relief.
The opener 'Let It Die' is a humungous piledriver - and scene setter - as Ozzy intones: "I'll Be Anything You Want Me To Be'. The album's title track is another metal anthem in the making.
The album was originally going be called 'Soul Sucker' and the track of that name has more of an Iommi/Sabbath vibe, in fact close to his former bandmate's overlooked 2005 collaboration with Glenn Hughes with a wonderful breakdown section showcasing G's insistent heavy riffing topped with a characteristic melodic solo.
'Life Won't Wait' and 'Time' on the other hand may seem a little lightweight in comparison with an almost pop vibe, and in the case of the former only tempered by the heavy riffed chorus whilst providing counterbalance to the album standout that is to come.
'Diggin Me Down' starts with an acoustic, semi-classical motif before developing into a down-tuned riff fest with more than a hint of menace.
On the whole, there are similarities with Rob Zombie especially in the juxtaposition of acoustic and metal motifs and it won't then come as a surprise that Ozzy has bagged ex-Zombies Tommy Clufetos and Blasko (drums and bass respectively).
While this album respects the Zakk Wylde Years it does mark something of a departure from the usual template, which Ozzy says was sounding more like Black Label Society. 'Crucify', 'Fearless' and the superb 'I Want It More' owe as much to Audioslave as traditional Ozzy.
Vocally, Ozzy sounds on rudely good form - whether the result of modern processing is a matter for forum debate - but there is no doubt that producer Kevin Churko has rung every last drop from his charges. With enough light and shade from the 'Prince of Darkness' to invite repeat play, 'Scream' is a glorious triumph.
****½
Review by David Randall
---
| | |
| --- | --- |
| | Print this page in printer-friendly format |
| | Tell a friend about this page |