Just witnessed your best live gig?.. send us a review!
OZRIC TENTACLES
Liverpool O2 Academy, 25 October 2010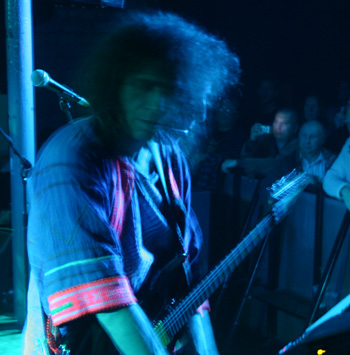 The Ozrics' most recent album 'Yum Yum Tree,' whilst retaining many titles of mystic origin, was more of an electronic journey than its predecessors. Godfathers of the genre, Hawkwind have also gone down that route via Tim Blake and even David Gilmour has seemingly returned to 'noodlings' on 'Metallic Spheres' with The Orb. Even Gong have toured this year.
So are we seeing a mini revival in the Space Rock genre?
Led by founding member, Ed Wynne on keyboards and guitar, the band cut a late 60's jib with smocks, long hair and dangly janglies. Silas Wynne and Brandi Wynne complete the family front line while Oli Seagle keeps the beat. Well he does more than that. Together with Brandi on bass the rhythm is very much the pyramid around which Ed and Silas can carve their sonic hieroglyphics.
Peering through his curtains of hair, Silas Wynne mischievously weaves some of the weirdest keyboard sounds ever concocted. Brandi is pleasing to the eye, providing the band with a focal point which was previously filled by former characters, John Egan and Seaweed. The lack of nutty flautist however places a little more emphasis on the quality of the mix and it's credit to the venue and the sound engineer that all nuances came though as clear as a bell.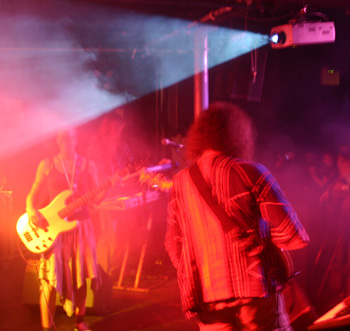 Highlights for me were the Ozrics classics, 'Saucers 'and 'Wob Glass.' Indeed it was during the Celtic influenced 'Saucers' that it occurred to me how accomplished a guitarist Ed Wynne actually is. Sometimes I feel he needs to give his guitar a little more breathing space around the cacophony of competing colours.
Nevertheless the whole is greater than the sum of the parts and it's good to see Ozrics visibly lifting spirits during these pressing times. If you can forget your worries for nearly three hours and take yourself off to a parallel universe, that's worth £15 of anyone's money. Ommm to the Ozrics!

Review and photos by Keith Thompson
Keith presents 'Rockwaves' on Get Ready to ROCK! Radio every Sunday at 21:00 More information
---