NORAH JONES ...Featuring EMI (2010)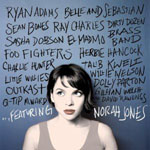 Seldom can there have been a better example of how to fall out of favour with the fickle record buying public. Surfing on the crest of that wave called 'mass appeal' seemed so easy for Norah Jones on the back of her 2002 debut album Come Away With Me. It went to # 1 around the globe, as did the follow-ups Feels Like Home (2004) and Not Too Late (2007).
But her last long player The Fall (2009) didn't fare nearly as well, stalling at # 3 in the US and # 24 in the UK. Not that it was a bad album, but I reckon the fickle public had simply 'moved on'. And while it was supposed to be her most rock orientated album, for those of us whose A-Z of rock begins with AC/DC and ends with ZZ Top, Norah Jones is simply not in the alphabet.
Cynics might say, that the almost indecent haste with which ...Featuring follows on the coat tails of The Fall is an attempt to prop up flagging sales, re-establish Norah's profile and tap into that lucrative Christmas market. But for fans - and there are many - it's the perfect vehicle for bringing together some of the many cameos, duets and collaborations she's recorded between 2001 and 2010.
Being Norah, no matter who she 'features' with she rarely strays far from safe and tested ground. As a result, even on the more 'extreme' collaborations such as with Foo Fighters, Outkast, or rapper Talib Kweli the connections are distilled to soft jazzy pastiches that would have Michael Parkinson salivating.
Of course, there's a time and a place for everything. And in the case of ...Featuring, that's probably on Christmas Day afternoon when, with sides bulging from that second helping of turkey, you're roasting your toes in front of an open fire, sipping a large Drambuie and fighting an overwhelming urge for 40 winks. Then, come Boxing Day it can be carefully filed carefully next to The Fall to gather dust for another next 12 months.
***
Review by Pete Whalley
---
| | |
| --- | --- |
| | Print this page in printer-friendly format |
| | Tell a friend about this page |