NICK CURRAN & THE LOWLIFES Reform School Girl Wienerworld EGRCD509 (2010)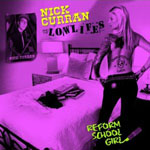 The explosive opening Little Richard style 'Tough Lover' packs all the bluster you would expect of a true rock & roller. Nick Curran's 'Reform School Girl' has all the makings of a guaranteed rock & roll party with enough guitar overdrive, honking sax and Curran's blood curdling scream to blow the roof off any self respecting hop. And yet there are a couple of reservations. Sure Curran can go head to head with Little Richard but he doesn't share Penniman's sense of light and shade. But then again Curran fans will probably love the unremitting bone crunching rock & roll with an occasional reprieve for a cod girlie teen drama.
For while the former Fabulous Thunderbirds guitarist ticks all the right boxes from his brutal rock & roll scream and his use of authentic vintage recording equipment to leap back into the 50's, there's not quite enough strong songs on offer to give the album that up-down-sideways sense of continuity.
What you get is a series if unremitting blasts that initially knock you off your feet but leave you with little room to gather your breath. The opening brace of songs do actually suggests that knows what is required.
He follows the barnstorming opener with a cleverly produced Red Devils sounding 'Reel Rock Party' on which the lead vocals are mixed back and the party crowd bv's are brought to the font, with Jason Ricci somewhere in between on dirt sounding harp.
The title track on the other hand points in the direction of his other great love, the teenage angst of drama filled girly songs. Maybe I'm missing something but apart from a tug of the retro heart strings there's frankly not enough substance, irony or subtle humour to save it from the ranks of hackneyed retro. Hell this makes Roy Wood's Wizzard sound classy.
But when it comes back to impassioned, jagged unpolished rock & roll Nick never lets you down. He jumps jives and wails on another screamer, the unflinchingly titled 'Kill My Baby' and adds a surf feel to 'Psycho' which just about makes it courtesy of the clever 'oooh and aaah' backing vocals.
Far better is the relatively speaking, hi-fidelity honking sax, cutting edge guitar and ever present vocal wail of 'Sheena's Back', while Nick rocks his ass off on 'Crazy About My Baby' on which his Little Richard meets John Fogerty's 'Travellin Band.'
There's a vague Bo Diddley beat and repeated riffs and another avalanche of exploding notes on 'Ain't No Good For You'. Nick also adds more broken glass wails over a blazing sax on the impressive 'The Lowlife' and the full throated delivery of 'Lusty L'il Lucy' with additional rock & roll piano courtesy of Derek Bosanova.
Nick does hold back on the smouldering whammy bar led 'Dream Girl' on which his low register phrasing is cruelly exposed, though he makes up for it with a Screaming Jay Hawkins approach. He also overcomes a forgettable intro rap on 'Flyin Blind', to duet with the co-writer Phil Alvin. Alvin's warmer timbre contrasts well with Nick's scream and results in a more considered approach that echoes Dave Edmunds on a song that flies.
'Filthy' has a Phil Spector feel to it while the closing double-time cover of AC/DC's 'Rocker' is the perfect end to an album that so nearly re-ignites rock & roll and drags it into the contemporary.
In truth 'Reform School Girl', doesn't quite have the songs to successfully accomplish what it sets out to achieve. Sure Nick stirs up the excitement of the 50's with his low down and dirty approach and undoubted rock & roll intensity. His gut wrenching screams and fiery guitar suggest he's the real deal, but it's all a shade too relentless and like a cream filled bun the first couple of delicious bites give way to a need to reappraise the whole. Nonetheless this explosive little delight is worth more than worth a few nibbles.
****
Review by Pete Feenstra
---
| | |
| --- | --- |
| | Print this page in printer-friendly format |
| | Tell a friend about this page |