NELSON Lightning Strikes Twice Frontiers (2010)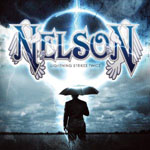 Few bands made such a splash with their debut as Nelson did in 1990 with 'After the Rain', which spawned a US No 1 in 'Can't Live Without Your Love' and 'Affection'. For everyone, myself included, that loved the sugar-coated melodies and infectious choruses, there were several others who could not get further than ridiculing the fluffy image of Matthew and Gunnar Nelson, whose glossy blonde locks earned them the immortal nickname the 'Timotei Twins'.
The nineties saw a series of finely crafted but poorly selling albums, together with a gradual de-glamming of their image, but Nelson had issued no new product in a decade, touring occasionally, including with Scrap Metal, but pursuing other projects such as a musical tribute to their late father Ricky and TV work. Until now that is, as Frontiers Records release an album being marketed as some form of sequel to 'After the Rain' 20 years on, coinciding with their long awaited UK debut at Firefest.
Frankly, this does Nelson no favours as it would be hard to match that album's impact, not least without a megabuck production budget, and indeed with those comparisons in my head I ended up disappointed after a couple of listens. But the album progressively grew on me once I treated it on its merits.
What is immediately clear seconds into the opener 'Call Me' is that the electric guitar is back to the fore in a big way, unlike 90's albums such as 'Because They Can' and 'Life' which saw a more stripped back, acoustic-based approach. 'Day By Day' and 'When You're Gone' both gloriously showcase the Nelson brothers' continuing way with melodies and harmony vocals, reminding me of prime-time Boston who shared many of the same values. 'Kickin my Heart Around' and the ballad 'To Get Back to You' (featuring Toto's Steve Lukather) are other highlights, although the second ballad 'Take Me There' is somewhat saccharine even by their standards.
But the album also contains more mainstream rockers than you might expect: 'Ready Willing and Able', and 'In It For The Money' are not their strongest songs but have a good time boogie feel, while Come is very obviously inspired by Def Leppard.
However my favourite track, though probably not to everyone's taste, was 'How Can I Miss You' - beginning with an intro uncannily like Doctor Doctor, it is a glorious, symphonic amalgam of late seventies soft rock sounds such as City Boy, New England, Smokie and even later period Sweet.
The brothers are audibly having fun with this album, but my biggest criticism is that their own exuberance gets the better of them sometimes, resulting in a rather cluttered production with too much crammed in, whereas sometimes less can equal more.
It's not After the Rain part 2, but compares favourably to albums like 'Imaginator' and 'Silence is Broken', and while the Timotei Twins now only need to wash and go, you turn a blind eye to the return of Nelson at your peril.
****
Review by Andy Nathan
---
| | |
| --- | --- |
| | Print this page in printer-friendly format |
| | Tell a friend about this page |