Just witnessed your best live gig?.. send us a review!
NAZARETH/Deborah Bonham
Relentless Garage, London 16 February 2010
Photos by Noel Buckley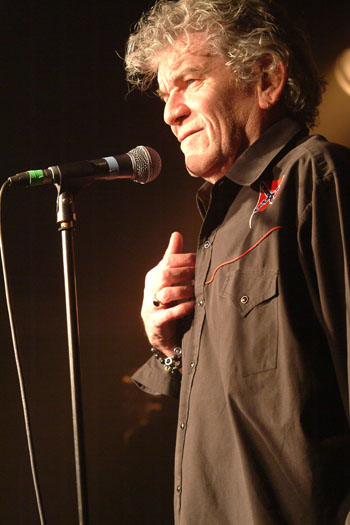 Despite being a cold Monday night, this was one gig I wasn't going to turn down. Two weeks earlier at the Butlins Rock & Blues Festival in Skegness Nazareth put in a show stopping highly professional polished set, and with having Deborah Bonham as support tonight ,who also was one of the best acts that weekend, this was one gig where I knew that quality was going to be on the menu.
Deborah Bonham came on stage a little too early for someone of her status for my liking, but those already through the doors enjoyed a fine set from the Duchess of rock.
No one can know the meaning of 'Shit Happens' more than Deborah herself, but that was the title of this opening fine little bluesy ditty. It was the new songs I liked the best, 'I Need Love' is an epic ballad which suits Deborah's strong emotional voice and 'Lightning Ray' is another jolly rocker.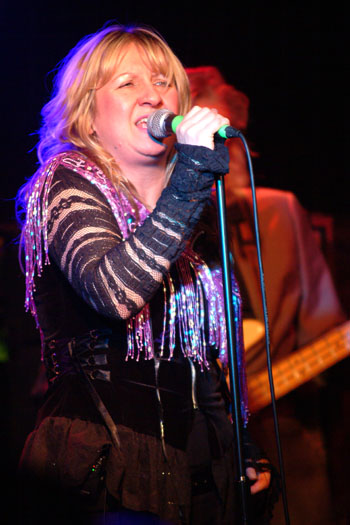 'Old Hyde' is a beautiful song but gets lost a little bit when trying to win over a new crowd in a short 45min slot, but she ended on a high with a great gutsy version of the classic 'Stay With Me Baby' showing everyone what a great voice this girl has got.
The bagpipe intro was loud 'n clear for Nazareth's entrance, but after a few bars of 'Telegram' ,something was amiss. Jimmy Murrison's guitar amp blew up with flames and smoke. Not even Spinal Tap had thought of that one.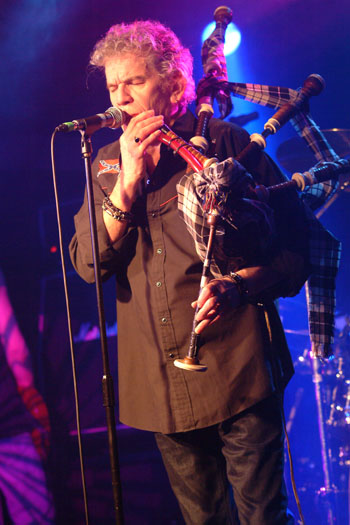 So with a smile and a shrug of the shoulders the band gracefully walked offstage. Luckilly the amp was quickly replaced and the band were back on stage a few minutes later, going straight into 'Telegram Parts 1&2' take 2.
'Turn Up Your Reciever' got me boogeing at an early time, sending out signals that this was going to be a good night. "Here's a song that was our first hit single and we performed it on Top Of The Pops...when I had big frizzy hair." says Dan McCafferty before Murrison launches into the slide guitar of 'Bad Bad Boy'.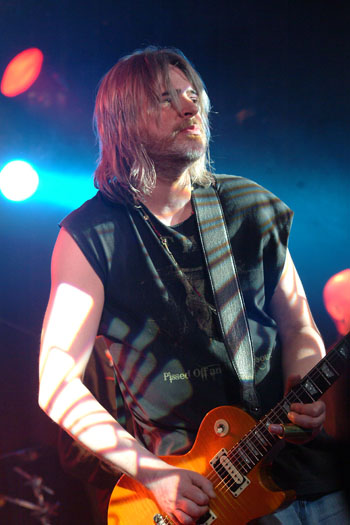 I was very impressed by the slow burning 'The Gathering' a grinding track from 2008's release 'The Newz' where McCafferty puts in a mean performance.
Despite being a hard drinker that would put Lemmy and Richards to shame and a lover of Marlboro Red's, Dan McCafferty's voice hasn't diminished one little bit of over forty years of professional use.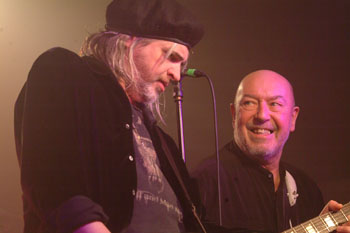 Pete Agnew's bass lines are thumping during 'Shanghai'd In Shanghai' and 'Hair Of The Dog' has surely one of the 'baddest' guitar riffs ever. No wonder Guns 'N Roses covered this track.
When Dan McCafferty sang the lines "I'm Young" during the massive ballad 'Love Hurts' he gave a cheeky nod of the head to agree he's not young anymore.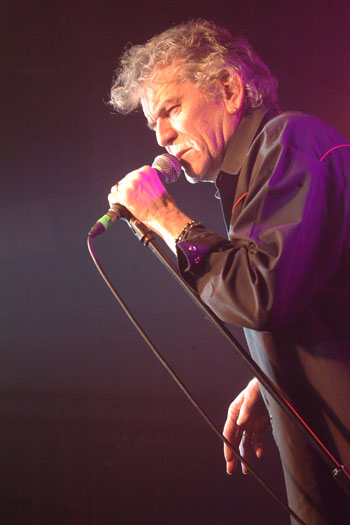 'Broken Down Angel' required audience participation ending a highly enjoyable set. 'Razamanaz' and another monster hit in the seventies 'This Flight Tonight' the Joni Mitchell cover the band made their own, sent everyone home happy.
Nazareth show no signs at all of slowing down and I'm glad for that. More please.

Set List : Telegram / Turn Up Your Receiver / Miss Misery / Bad Bad Boy / The Gathering / My White Bicycle / Hearts Grown Cold / Shanghai'd In Shanghai / Hair Of The Dog / Holiday / Love Hurts / Broken Down Angel...encores .. See Me / Razamanaz / This Flight Tonight

Review by Mark Taylor
Photos by Noel Buckley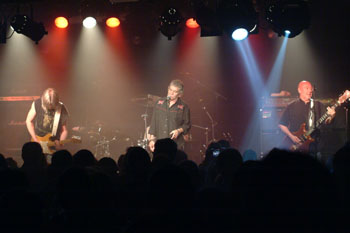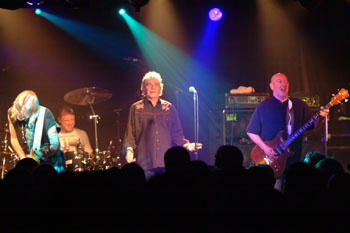 ---
Mark Taylor talks to Dan McCafferty and Pete Agnew after the gig at Relentless Garage, London
(16 February 2010) (8:15) (Real Audio Player required)
---