NAZARETH Reissues Salvo (2010)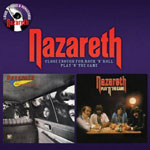 Two of Nazareth's lesser known mid 70s albums are neatly packaged on one disc here. Released between 1975's Hair Of The Dog / Greatest Hits and the classic late 70s Expect No Mercy, Nazareth's music was a little more laid back at the time. And although the still released several singles, success in the UK was waning, and the band spent more time on tour in the USA.
Two albums a year on top of tours was standard practice back in 1976, something you can't see young bands doing today. But any album that opens with 'Telegram' (a track the band opened concerts with for years) has to be worth checking out. Close Enough For Rock 'n' Roll is probably best remembered for that track, a genuine British hard rock classic, but it also features the bluesy 'Vancouver Shakedown' and the funky 'Born Under The Wrong Sign' as well as acoustic and ballad moments. ****
Vocalist Dan McCafferty's vocals are as gravelly as ever, and guitarist Manny Charlton does a fine job of producing too.
Play'n' The Game (released the same year) opens with the punchy 'Somebody To Roll', the album continues with plenty of laid back yet dark and fuzzy moments, and 'I Want To Do Everything For You' is a slow but heavy blues number. ****
Both albums feature a laid back, FM oriented, blues and country tinged rock sound, and are still well worth a listen. One bonus cut and a well presented booklet that features band interviews and you get an excellent release.
Review by Joe Geesin
---
| | |
| --- | --- |
| | Print this page in printer-friendly format |
| | Tell a friend about this page |