NATALIE MERCHANT Leave Your Sleep (2010)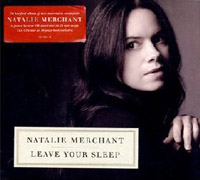 The first thing that strikes you about Natalie Merchant's latest release is the sumptuous packaging. A double CD set spanning 26 new songs, it's encased inside an 80 page hard back book, itself shrouded in a substantial outer sleeve. It's a weighty and beautiful artefact.
Which reflects what this project - six years in the making - has been for Natalie. That is, a labour of love, inspired by motherhood. And as lovingly as the songs have been honed, so no expense has been spared on the production or presentation.
Leave Your Sleep is a collection of thirty six obscure and eccentric children's poems, anonymous rhymes, and lullabies from the pens of 19th and 20th century British and American bards - including Robert Graves, Charles Manley Hopkins, Edward Lear, Ogden Nash, and Robert Louis Stevenson - given a new lease of life through musical reinterpretation.
Over a period of 5 years of writing and research Natalie penned some 50 or so numbers before distilling them down to the 26 that made the album. She then collaborated with Venezuelan musician-composer-producer Andres Levin and set about capturing the spontaneity of 'live' sessions that involved over a hundred musicians from the varied worlds of folk, Cajun, country, bluegrass, jazz, chamber music, R&B, Celtic, blues and reggae,.
In truth, it all sounds a bit 'arty farty' and dare we say it, pretentious. But in view of the quality of Natalie Merchant's previous output you really hope it will work, even if you're not quite sure how. The good news is that Leave Your Sleep is a majestic piece of work - a timeless classic that will surely transcend the vagaries of future musical trends, in the same way as the work of the wordsmiths that she has revitalised.
From the glorious pipes, whistles, strings and wonderfully warm vocals of the opening Nursery Rhyme of Innocence and Experience, Wynton Marsalis's magnificent trumpet on the jazzy Bleezer's Ice Cream, the beautifully authentic sounds of The King of China's Daughter, the aching If No One Marries Me, the splendid reggae of Topsyturvey-World, and the haunting closing number Indian Names complete with Native American flutes, drums, rattles and chanting, Leave Your Sleep is a remarkably cohesive piece of work, with new facets to be discovered and enjoyed with each listen.
This isn't so much a contemporary record as a classic in the making. A record to be savoured, absorbed and enjoyed for many years and by many generations to come. Leave Your Sleep marks Natalie Merchant out as an artist whose place in musical folklore is guaranteed. This isn't pop, rock, or anything else. It's art. Period.
*****
Review by Pete Whalley
---
| | |
| --- | --- |
| | Print this page in printer-friendly format |
| | Tell a friend about this page |