MOJO POJO Mojo Pojo Angry Pojo APCD001 (2010)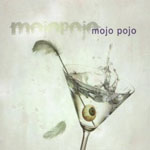 Mojo Pojo is both a band and an album bursting with musical intensity and crammed full of Proggy thematic development, superb playing, top of the range vocals and songs that thrillingly update the Prog Rock genre.
Rock fans of a certain age will smile at the fleeting musical references to Yes, Jethro Tull, King Crimson, Gentle Giant and even Uriah Heep, while Metal fans will surely warm to the band's intensity and musicianship that at times is reminiscent of Metallica'. Such is Mojo Pojo's musical brilliance and restless musical imagination - incorporating rock, fusion, jazz, and Latino elements - that the band establish their own genre as much an album they can proudly call their own..
What makes 'Mojo Pojo' so refreshing is quite simply the successful way they have managed to transpose a jumble of Proggy musical ideas into a coherent jigsaw puzzle of musical delight.
The compositions are sung in both Spanish and English while the more expansive instrumental pieces are full of meandering keyboard lines and some polar opposite sharp riffs, with spiralling guitar lines played out over a tight rhythm section powered along by staccato muscular drum patterns from Jorge Gonzales (brother of keyboard player Luis).
The album opens with a bang and never lets up over 11 tracks which are equally impressive in their conceptual development as in the way they are played.
The opening 'Nose Won' is full of intense guitar, feverish percussion and imposing keyboard lines over a thunderous bass, all tied together by a vague Latino feel. There's an overall feeling of superbly played adventurous celebratory Prog Rock, full of thematic development, compositional dynamics and solos that leap from the speakers.
'Llega el Tiempo' features some excellent expressive vocals from Enrique Perez Vivas. He switches to double tracked English vocals on the impressive 'Drifting', a song full of acoustic guitar, vibes and keyboards. The intuitive production makes the best of the layered vocals over powerful ascending chords as part of an inventive Proggy arrangement. And while 'Llega' at times evokes Tull's 'Living in the Past', the following 'Stained' puts you in mind of John Anderson of Yes, with its patchwork of harmonies. The sharp keyboard led instrumental section meanwhile could have been Gentle Giant!
'Esta vez', is perhaps the best of several highlights on this excellent album with the soaring vocals once again in Spanish and the stop-start instrumental sections and doubled up guitar and keyboard providing the basis for a very intense melody.
The humorously titled 'McPojo Thai' almost emulates the above, opening with speedy runs of machine gun style guitar and burst of intense keyboards, in a number that derives its intensity from a compressed production. The middle of the song drifts momentarily as if pausing for breathe, before slipping into a synth solo over a pulverising drum track and insistent rhythm guitar. This is the sort of Prog Rock music that initially made the genre so exciting. In the space of this song alone, Mojo Pojo explores essential colourful tones, rich dynamics and life affirming stop-start rhythms full of vitality.
Like much of the music on this superb album 'McPojo Thai' is full of passionate playing that stretches the mind as much as it does the players who gloriously colour the canvas.
On 'Green & Blue' Enrique's voice almost acts as a clearing house, restoring a sense of order over some free-form, jazz induced fracture. His vocals cleverly mirror and subsequently subsume the guitar line and bring melodic harmony to triumph over muscular clutter. However, the latter does establish the kind of dynamic tension that the band feeds off as evidenced by the dense Jazz/Rock feel of 'Hole Tone', a track that would not have been out of place on King Crimson's 'Red'.
But where there is musical tension there must also be a contrary pull towards resolution and the band find their outlet via Luis Daniel Gonzales's melodic keyboards lines on 'Birds at Dawn' and the climactic closing sax solo by Julio Andrade on 'Regreso'.
Venezuela might not figure highly in Rock fans minds as a home for Prog Rock and in that respect Mojo Pojo (the band) are breaking new ground. On the other hand, 'Mojo Pojo' is the kind of debut album that given a fair hearing might enter the annals of classic Prog Rock. Mojo Pojo is that rare thing, a band of musical virtuosos with fire in the belly and enough compositional flair to suggest a potentially exciting and enduring career.
*****
Review by Pete Feenstra
---
| | |
| --- | --- |
| | Print this page in printer-friendly format |
| | Tell a friend about this page |