MIKE ZITO Pearl River Electogroove EGRCD508 (2010)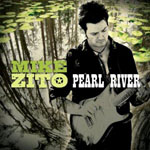 At the time of writing 'Pearl River' has been nominated for Best Contemporary Blues CD and the title track co-written with Cyril Neville from the Neville Brothers has won the 'Blues Song of the Year Award'. Not bad for an artist who has overcome personal problems to find himself rehabilitated and signed to the resourceful Electrogroove label. And it's a marriage that works in so many ways.
The label has already brought together a diverse number of artists into their stable to broaden their blues based catalogue without diluting their unique brand. And it's this meeting of the old and new along with the stylistic diversity of 'Pearl River' that makes this project such a success.
Much thought has obviously gone into both the album itself as well as the roll call of excellent New Orleans musicians plus guests such as Double Trouble's Reese Wynans on keyboards.
As a result Mike dips in and out of some Gulf Coast influenced swampy sounds, referencing blues, rock, funk, country and inevitably New Orleans along the way, but all indelibly stamped with Zito's emotive voice and guitar driven energy. At times his music seems understated and laid back, but always infused with an integral rhythmic quality that offers him potential avenues in which to stretch out from the deepest of grooves to the most explosive of solos.
In some ways Mike is a leading part of a new vanguard of the American blues scene, which confident in its cultural heritage and collective road sharpened playing abilities, has taken the a step forward with a restless search for meaning and emotion through narratives with something to say.
'Pearl River' extends this search from the self to the historical and spiritual. Mike is an expressive guitarist who changes tone, tempo and attack to match a deeply soulful voice that evokes both Joe Louis Walker and Mike Morgan.
He opens with some fiery bursts of soloing on 'Dirty Blonde', a southern take on the bottle blonde Essex girl. It's the kind of song that has a good time feel and the blazing guitar work evokes a great night out! On the other hand he's capable of reaching deep inside himself whether on the title track or on the deeply personal 'Change My Ways' with its climactic solo.
On the Anders Osborne-penned acoustic duet 'One Step At A Time', the song almost veers into Jackson Browne territory. The latter also seems to neatly reference Zito's own outlook on life and he brings a deft touch and some real emotive phrasing (a la Kim Wilson) to George 'Harmonica' Smith's slow blues 'All Last Night'.
'Pearl River' is a personal journey of discovery that takes in relationships, love and contemplative songs about the self. The title track with lyrics by Cyril Neville explores a dark historical legacy and is easily Mike's most adventurous song being rich in metaphor and deep in meaning as it meanders eloquently through its changes, evoking the flow of the river itself.
With the exception of the closing ballad 'CMon Baby', the album has the feel of a live set, opening with a bang and then exploring his abilities through a range of different formats. He adds his own take on a few covers and works towards a couple of emotional highs notably on the Free influenced '39 Days'. And it is this willingness to explore and push himself into new musical environments that makes this album just that little more than a regulation blues album.
If 'Pearl River' is your first introduction to Mike Zito then you've discovered him at just the right time. The barn burning rock-blues guitarist adds real craft and emotional substance to his firebrand chops that burn bright throughout an excellent contemporary blues album.
****
Review by Pete Feenstra
---
| | |
| --- | --- |
| | Print this page in printer-friendly format |
| | Tell a friend about this page |