Just witnessed your best live gig?.. send us a review!
MICK POINTER'S RECITAL OF THE SCRIPT
Progeny 3, Leamington Assembly 9 May 2010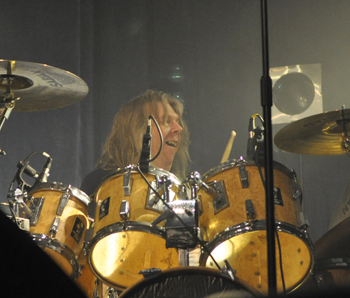 I must admit this was the band I had been looking forward to seeing from the moment the Classic Rock Society gave me the opportunity to review and photograph the Progeny 3 festival, I consider myself a massive Marillion fan but unfortunately after buying both the Market Square Heroes and Punch and Judy singles, I lost track of the band until the Hogarth Years so never managed to see the 'Fish era' Marillion live.
I had the pleasure of previously seeing this set in the intimate setting of Riffs the great rock pub in Swindon, a fantastic night seeing the songs from the first Marillion album come to life, the bigger stage of the Assembly and the venues usual impressive stage lighting only added to the magic.
The main part of the set was of course a track by track run through of the first Marillion album Script For a Jesters Tear, a fabulous piece of music which this band, lead of course by the original Marillion drummer Mick Pointer does complete justice.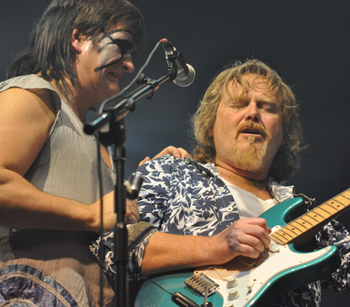 Starting with the moving title track itself the band were on terrific form, Mick's powerful drum work, lead vocalist Brian Cummings (Carpet Crawlers) complete with Fish style face make up playing the part to perfection, one of the best lead guitarists in the world Nick Barrett (Pendragon) making the solos look far too easy and the rest of the band a joy to the ears.
Hard to pick stand out tracks from such a classic album played so well but Garden Party had the venue rocking and the soldier props during an atmospheric Forgotten Sons worked exceptionally well.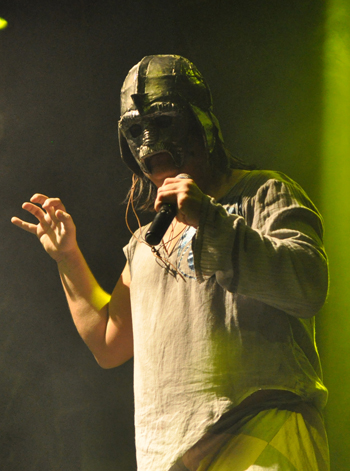 A real treat at a Recital gig is the playing of probably the most famous/infamous piece of music in progressive rock history the mighty Grendel, of course not played by Marillion (except for Mr Rothery teasing the crowd to the first few bars at a certain convention warm up show I attended) for a very long time.
As all of the relevant props are included in the show we of course had the famous mask during Grendel and a few front row fans and a photographer got well and truly Grendel'ed!
The main set ended in rocking, bouncing style with Market Square Heroes and the pace was kept going for the fun rendition of the Scottish anthem Margaret to close a real triumph of a set, for me of course the highlight of the festival.


Review and photos by Andrew Lock
---