Just witnessed your best live gig?.. send us a review!
MICHAEL SCHENKER GROUP
Shepherds Bush Empire, London 2 June 2010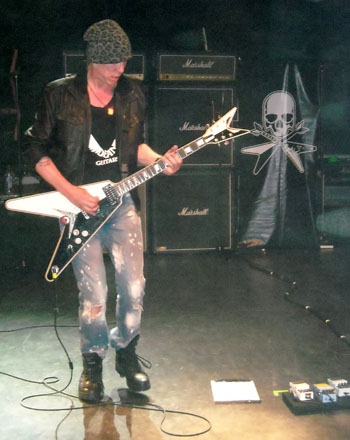 Like Forrest Gump's box of chocolates, you never know what you are going to get with notoriously unpredictable guitar legend Michael Schenker, the man once dubbed the 'Krazy Kraut' by an admiring if un-PC Kerrang in the early eighties.
Thankfully, the mercurial German seems to have shed his personal demons, on the evidence of this memorable show marking the 30th anniversary of the Michael Schenker Group.
Underneath a ski hat, he looked well and at peace with himself - even smiling with the crowd and inviting them to play his guitar at one stage, while his trademark burning runs up and down the fretboard of his Flying V were arguably better than ever.
Pity though the Schenker-heads who headed stage left and forgot to spot from his Marshall stacks that he had stationed on the right side of the stage for the first time I can remember.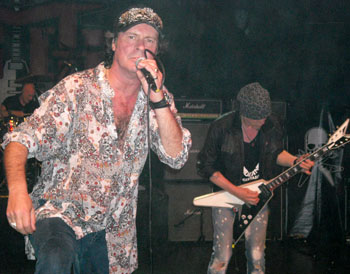 It helps that some of the men who gave MSG their biggest successes in the early eighties are back in the fold - vocalist Gary Barden and bassist Chris Glen. The former was never the greatest of singers, and to be honest he struggled at times, but he plays the part of the genial old rocker to perfection and it feels more authentic with him on board than more technically gifted hired hands Schenker has used in the past.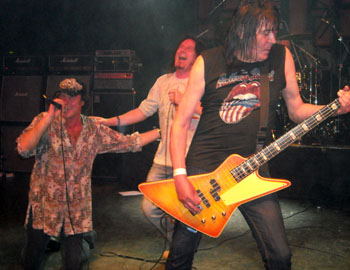 Meantime Glen's Ross Valory-esque face pulling and ample girth belied some nifty bass work. The line-up was completed by the powerful drumming of much-travelled Chris Slade and American Wayne Findlay in the Paul Raymond role of rhythm guitarist and keyboardist.
After an instrumental opening, a double from their 1980 debut, Armed and Ready and Cry for the Nations got the gig off to a flying start and the pace rarely let up, with the likes of Let Sleeping Dogs Lie and On and On with extended solos from Michael, his guitar tour de force Into the Arena and the slow burning Lost Horizons, with Barden finding his vocal range.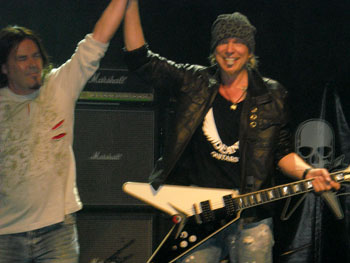 Even a pair of songs from their reunion album In the Midst of Beauty, with Neil Murray guesting on A Night to Remember, impressed with Barden seeming more comfortable on them than when he was straining for notes on the oldies.
It was great to hear Rock my Nights Away for once, although it was not the best version, while a belated UFO classic in Lights Out, Scorpions drummer Herman Rarebell guesting, and his signature tune Attack of the Mad Axeman brought the set to fever pitch.
However, after slipping another newie, Ride on My Way, into the first encore, the real treat was to come. On sauntered Pete Way for Doctor Doctor, almost bringing tears to those who feared UFO's legendary bassist, and a man who defines rock'n'roll excess, would never be seen on stage again.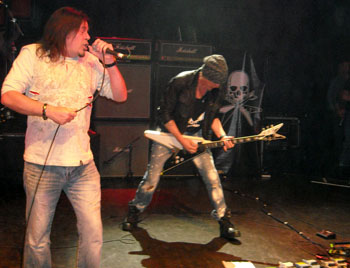 Not only him but Paul Raymond whose altercations with Schenker were obviously now in the past, and singer Doogie White, striking a very Phil Mogg-esque vocal pose. It would be hard to top that, but Michael cranked out the riff to Rock Bottom and the usual extended workout had people going crazy at the front.
One of my favourite gigs of the year, and far more enjoyable than UFO's last show at the same venue . I just hope that 'Metal Mickey' continues to stay on an even keel and enthral us for years to come.
Setlist:
Armed and Ready/Cry for the Nations/let Sleeping Dogs Lie/Are You Ready to Rock/I Want You/Night to Remember/Into the Arena/Lost Horizons/Rock My Nights Away/On and On/Lights Out/Attack of the Mad Axeman
Encores: Ride on My Way/Doctor Doctor/Rock Bottom

Review by Andy Nathan
Photos by Mark Taylor
---