MICHAEL GILL Blues For Lazarus
Progrock Records PRR310 (2010)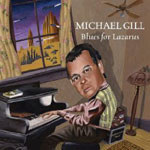 Michael Gill's Blues for Lazarus is a slightly misleading title for an album that for the most part falls comfortably under the AOR /MOR banner with Prog leanings.
In truth, the album is not Prog enough and does not rock enough to satisfy either particular camp. And by the time of the MOR duet 'Stay the Night' it's also not quite commercial enough to potentially make a radio playlist.
'Blues for Lazarus' opens with 'Merlin's Journey' which features a rich guitar line, rumbling bass and plenty of synth. Unfortunately the well arranged track which also calls on Amy Brodo's impressive cello playing, ultimately fails because of the trite lyrics and limited vocals of Dave Cowden. Michael Gill's piano subtly teases out the melody line but lyrics such as 'They Spoke an ancient language, I had never heard, But I understood it all the same', sound both clichéd and are not given a due airing by a vocalist who sounds happier in cabaret mode than prog.
The title track is another Michael Gill led piece. You can hear the semblance of a good idea develop on the piano and then it is immediately compromised by another limited vocal performance. This time Rick Ellis manfully tries to handle a blues, but a blues singer he ain't, particularly when phrasing 'away' as 'awahey'. It's a shame because it s a good song, with great piano and heartfelt lyrics. As with the later 'Here Comes the Flood' you get the feeling that Dave Koz's alto sax is plugging the gaps.
On many songs it sounds as if Michael Gill started with some great ideas - a mix of Prog Rock, funk, blues - and some good instrumental melodies and then failed to find the necessary musicians to bring his ideas to fruition.
Significantly perhaps, the best track is his solo offering 'Memory of a Dream' on which he delivers some meditative piano lines. Similarly the closing track 'Rain' which features the album's best vocalist Callie Lou Thomas makes the most of Gill's core repeated piano lines over some percussive punctuation. He cleverly adds some delicate piano notes that evoke the title. Unlike much of this album which is simply too damned polite, 'Rain' fulfils one of a number of promising ideas from Michael Gill. It's just a shame that the rest of the CD takes the long route to find its mark.
***
Review by Pete Feenstra
---
| | |
| --- | --- |
| | Print this page in printer-friendly format |
| | Tell a friend about this page |