Just witnessed your best live gig?.. send us a review!
METAL HAMMER GOLDEN GODS AWARDS
O2 Arena, London 14 June 2010
GRTR! Chief Ligger Mark Taylor, jaded from a few nights in the great outdoors at Download, compared notes with Def Leppard's Joe Elliot in the toilets at the Golden Gods Awards, and where Taking Dawn had a whole new meaning as he stumbled from the Crobar ... (But a surprisingly lucid report - ed)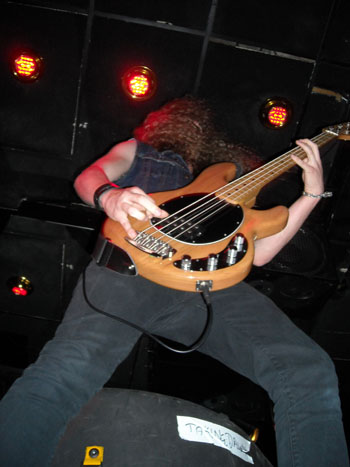 Metal Hammer magazine was first launched in the UK back in 1986 and whilst other magazines have followed the latest trends and strayed away from their original intentions, Metal Hammer has always stayed true to it's metal roots which now has claimed the number one spot for the biggest selling metal magazine on the shelves.
The Metal Hammer awards are becoming an inaugural part of the heavy metal calendar, normally hosted after a major festival when the biggest names of rock are in town to accept an award, make a speech or to put in a fine live performance.
Tickets to the event are given away in competitions and some lucky winners are treated to a trip down the Thames on the H.M.S Hammer in the afternoon, including some live sets on board from Hellyeah, Nonpoint, Sonic Syndicate and Rise To Remain.
Whilst all that fun was going on, I was making my way back down the motorway after spending a knackering weekend at the Download Festival, only arriving back in London in time for a quick shower then onwards to the Indigo venue located at the o2 Arena.
I didn't have much energy for the long night ahead, but after a few complementary Jaigermeister's, I was soon back in full swing.
Tonight's hosts for the awards are Steel Panther who started the evening off with a perfect three song set of the now classics 'Death To All But Metal' and 'Turn Out The Lights' followed by the new single 'I Want It That Way', a cover of the Backstreet Boys hit done the Panther way.
Although nervous before the show the Steel Panther boys did a great job of hosting the awards for the rest of the evening all done in their very best non-PC humour.
It was a change of pace after with Brit thrashers Evile playing some new tracks from the recent 'Infected Nations'. Metal Hammer editor Alexander Milas introduced the first award of the night for best new band which went to Rise To Remain. I'm not going to go into every award in detail for who won what and who introduced what. If you really want to know everything then you're best buying the August edition of Metal Hammer which has all the glorified details.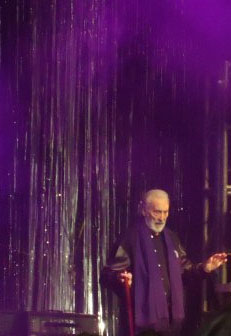 Photo: Peter Kealy
There were some A-list rock celebs here tonight to give a speech or to accept an award including Def Leps Joe Elliot, Joe Perry from Aerosmith who won the Riff Lord title, but the biggest thrill of the night came when Tony Iommi introduced a real legend which sent shivers down my spine and made my arm hairs stand on end. None other than actor Sir Christopher Lee made his way on stage, still looking refined at 88 years of age with grey beard and walking stick.
Lee silenced the media darlings upstairs who then gave a standing ovation to the great lord of so many timeless classic movies, who also has had a hand in metal narrating on albums by Rhapsody and being recently involved in the Charlemagne album. Even the Oscars would have a hard job in getting Sir Christopher Lee attending their event,so full kudos to Metal Hammer. Horns salute at full mast.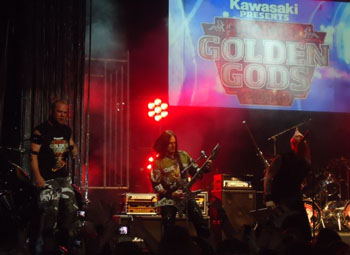 Photo: Peter Kealy
More live action from Five Finger Death Punch who played explosive versions of 'Burn It Down', Way Of The Fist' and Dying Breed' which started off a massive circle pit. Skindred followed who were perfect for getting this party pumping with the floor fillers 'Trouble', 'Nobody' and 'Stand Up For Something. Singer Benji certainly made his mark as being in da house.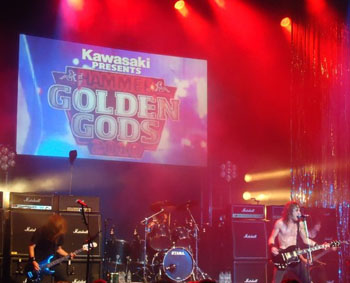 Photo: Peter Kealy
With many more awards being dished out which featured appearences from Machine Head's Phil Demmel, Celtic Frost main man Tom G Warrior and Cathedral's Lee Dorrian , Tony Iommi made his way back on stage and stated that Heaven & Hell will make one last performance at the forthcoming High Voltage Festival with guest vocals from Glenn Hughes and Jorn Lande: that put a smile on my face.
The final award of the night was presented by Vinnie Paul. Many thought the Golden God award would posthumously go to Ronnie James Dio judging by the cries of ''Dio,Dio,Dio'' , but these awards are decided way before the event and the award went to guitar shredder Zakk Wylde who was here to accept his mantelpiece decoration followed by an on screen message from his former boss Ozzy Osbourne.
With the awards over it was left to Aussie rockers Airbourne to end the evening on a high with a rousing thirty minute slot of their best numbers who were joined on stage by FFDP singer Ivan Moody who by this time was a little 'two sheets to the wind' and overstayed his welcome like the last person does at your party.
With the evening over for many, for those with guest wrist bands it was time to make our way over to the swanky nightclub the Embassy in Mayfair where the aftershow was being held. Many of the big stars of the night made their way back to their hotels for a cigar and a Cognac.
Upon arrival I made a dash for the gents where I found myself ... er...'hanging out' with Joe Elliot. Later on I'll be chatting to the boys from Paradise Lost and Will Palmer from Angel Witch, but by this stage I wasn't in much good shape to be holding a sensible conversation.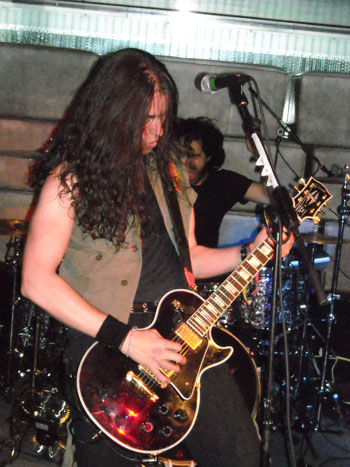 Downstairs there was more live action. I've stated in previous reviews that I would like to see Taking Dawn in a club rather than support on the big arenas like they have been doing recently supporting Airbourne and Kiss. I'm glad to say that Taking Dawn kicked some serious ass in a hour long set.
Playing tracks from their debut had so much more oomph to them in such small surroundings. The band were in party spirit ending their long European jaunt on a high. A cover of 'Black Diamond' paying homage to Kiss simply rocked. Making the most of the area the band were jumping on monitors, drum cases and even the bar.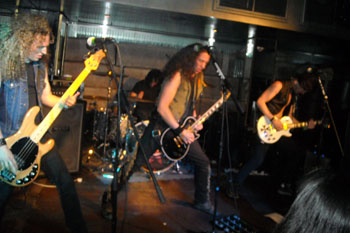 Chris Babbit jumped into the crowd during 'Take Me Away' without missing a note headbanging away like it was going out of fashion. At the end of the set Babbit jumps into the crowd again as the DJ starts up 'Highway To Hell' with more serious headbanging from Babbit.
By this stage I decided that I had enough and went off to the Crobar for a little night cap with a few other party animals. It wasn't a good idea as we ended up having a little private party into the wee hours, arriving home as the birds were singing and the milkman half way through his day. So much for an early night.

Taking Dawn set list : Like A Revolution / Save Me / Stand Up And Shout / Endlessly / Time To Burn / So Loud / Black Diamond / Fight 'Em / Take Me Away / The Chain


Review and photos by Mark Taylor, except where indicated
---