MEHIDA The Eminent Storm (2010)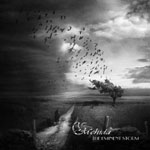 Mehida are a melodic metal band from Finland & Sweden and include ex-members from both Sonata Arctica & Candlemass namely Thomas Vikstrom on Vocals, Mikko Harkin – Keyboards, Toni Maki-Leppilampi – Bass, Olli Tanttu – Guitar, Jani Stefanovic – Guitar and Markus Niemispelto on Drums.
This is the second album after the 2007 release of the excellent 'Blood & Water' and after the excellent reviews and airplay from its predecessor I am eager to get to grips with this one!
So on to the first track 'Celestial Tears' what I can truly describe as an awesome melodic almost haunting song showing the immense talent these guys have. 'Urban Scream' – a title that in no way describes this excellent ballad backed up with riffs that ooze crouching passion, closely follows the track.
Where Could I Flee again has a powerful feel to it with the added bonus of a sing along chorus that would surly is a crowd pleaser when played live. This track is closely followed by the more meaty A Block Of Wood, again with those ballsy hooks complimented by a vocal range that gillan would have been proud of.
Abandoned bring a more power metal approach to the album although does slow right down during some of those catchy lyrics, although you feel that sooner or later the tempo will build back up and it does – at times this track reminds more of some of the best tracks Uriah Heep brought to us way back when!
Through the rest of the album you can see that this band can bring you a diverse range of songs but all with the clear vocals that are Thomas's trademark.
This is probably one of the best albums I have heard this year but don't take my word for it - get online and listen to what I hope will be a band we see a lot more of on the Festival Circuit.
*****
Review by The Unforgiven
---
| | |
| --- | --- |
| | Print this page in printer-friendly format |
| | Tell a friend about this page |
***** Out of this world | **** Pretty damn fine |
*** OK, approach with caution unless you are a fan |
** Instant bargain bin fodder | * Ugly. Just ugly
get ready to rock is a division of hotdigitsnewmedia group