MATT SCHOFIELD Live From The Archives Nugene 1002 (2010)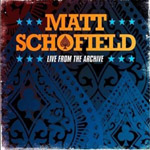 Matt Schofield's 'Live From the Archive' is the work of a road tested trio who clearly enjoy pushing their collective limits on 8 tracks that give them the opportunity to stretch out, jam a little and groove the night away.
Holland has a rich recording history second to none, and this 2007 NPS live to air broadcast is worthy of a weighty historical tradition.
'Live From the Archive' also features Matt's forte of taking an unassuming song and bending and shaping it to his own ends. This is immediately apparent on the opening shuffle 'All You Need' which is given some extra gravitas by his gnawing note repeats in a sudden shift of muscular emphasis.
It's a dynamic trick that he repeats on the angular 'Black Cat Bone' In truth it makes up a little for his vocal shortcomings which too often relies on a throaty growl to get him through. But in truth it's the bands interrplay that the fans come to enjoy. And in that respect they don't disappoint, whether its on the staccato funk of 'Sifting Thru The Ashes, with its flighty guitar line, or on a lengthy reading of 'Lights Are On , But Nobody's Home', on which Matt use of delicate sustain and a trebly tone would surely have made the late Albert Collins smile.
'Live From the Archive' is already three years old and like his label partner Ian Siegal, Matt's career has already moved apace since this recording. But if you want to tap into his core style, this is not a bad place to start.
His two band mates Johnny Henderson (organ) and Evan Jenkins (drums) combine their song writing talents on the funked up jazzy instrumental 'Room at the Back' on which Matt unravels his solo like an uncoiled spring. He's a trifle ambitious on a cover of 'Sitting On Top of the World', if only because he doesn't have the voice to convey the uplifting meaning of the lyrics, but he adds a lovely jazzy run to bring real colour to the piece.
And he manages to leave a coherent musical calling card by topping and tailing the live set with an extended version of 'The Letter' which makes the most of a crescendo style intro before slipping into a meandering, mid tempo groove on which Matt explores the song's inner contours. In some respects it's a perfect example of his abilities as an arranger, as much as the bands collective musical brilliance, which allows them to stretch out and jam.
'Live From the Archive' is an album by a trio stepping out in search of their rightful place on the contemporary blues circuit. They don't quite hit the heights on this live session, but there plenty of inspired moments, dazzling solos and wholesome grooves to suggest that its only a matter of time before they realise their potential. Matt's final solo bristles with intent, and is the perfect finale to a previously unreleased recording.
****
Review by Pete Feenstra
---
| | |
| --- | --- |
| | Print this page in printer-friendly format |
| | Tell a friend about this page |