MASK Technopia Repertoire (2010)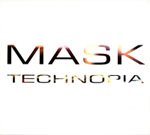 Sonja Kristina took umbrage with my comments about her first Mask album, 'Heavy Petal'; not liking the reference to hippie-ism which is understandably alien to musical partner Marvin Ayres who cut his musical teeth in the eighties. In truth this was probably a clumsy aphorism for a reviewer fumbling to reconcile the ambient grooves therein and Sonja's own colourful past.
'Technopia' offers a further intriguing juxtaposition of Marvin Ayres' electronic soundscapes and Sonja's fragile, sensuous, and emotive voice.
Listening to the title track, you could be forgiven thinking that the nineties and noughties never happened, a hypnotic synth-driven groove with atmospheric violin and of course Sonja's voice making sure Gary Numan doesn't claim it as his own.
'Ice Winter' features an attractive orchestration with Sonja's spoken word whilst a cover of 'Sound And Vision' pays homage to that master of musical theatre, Bowie. And 'Precious Hours' has the same effect on the listener as 'Free' on 'Heavy Petal', infectious and insistent.
Elsewhere, 'Deep Creep' sounds like it is straight out of a 'Film Noir' sub-plot although 'Pumpin Up the Whisper' never quite develops into the unbridled rocker it should be. But then that's not really what Mask is about. There are no crunching guitars to upset the dream-like and chilled atmosphere that pervades this album.
Two surprises, and pleasant ones at that, are Ayres' own vocals on two reflective pieces: 'Is This A Wrong Turn' and 'Your God'. The whole is rounded off with the extended piece 'Undulations' which has Sonja's harmonious interjections against a rich orchestral back cloth.
On balance, this is an excellent follow-up to 'Heavy Petal' and appears to continue an audio visual approach that will be best experienced when the duo tour the album this year.
'Technopia' could be construed as probably two decades too late in musical topicality terms but Ayres and Kristina bring a quality quotient to the proceedings. And those for whom Kristina is still something of an icon - one of the true trailblazing 'women in rock' several years ahead of Debbie Harry - this is a must-have refresh.
Sonja Kristina's recent repatriation with Curved Air and her musical rediscovery with Ayres is one of the quiet success stories of recent years. She's a very creative and enigmatic performer for whom the status quo is never quite enough.
If a performer is ultimately a sum of their musical parts, then Sonja's freewheeling spirit was nurtured in the late-sixties and - like it or not - the free thinking, optimism, and egalitarianism of hippie-dom has coloured her music ever since. And we love her for that, even if it scares the hell out of her musical partner.
****
Review by David Randall
Album review (Heavy Petal)
---
| | |
| --- | --- |
| | Print this page in printer-friendly format |
| | Tell a friend about this page |