MARSEILLE Unfinished Business Gas Station Music (2010)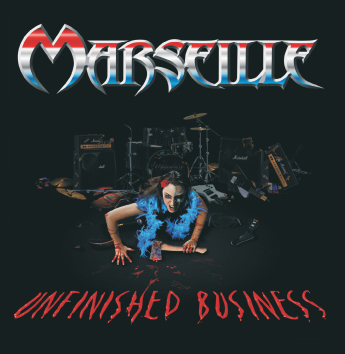 Marseille, for the initiated, have 'Unfinished Business' referring to the collapse of Mountain Records which left five action hungry Liverpool lads in leather strides without equipment or pay.
Over 30 years later Sussex-based Neil Buchanan and Andy Charters who now resides in the US from the original line up want to show that there are new chapters to be written, nothwithstanding Mr. Buchanan's successful TV career in the intervening years.
The opener then is a worthy anthem to underpin the message with its catchy chant which will do well on the forthcoming UK tour. It's an unbridled attack on the senses. In 'I Believe', Nige Roberts impounds the steady tempo with an autobiographical story telling style which reminiscent of Lou Gramm at the height of his powers.
I am not sure what I expected, but this album is much more melodic than I had imagined. My memory of Marseille was of a punk metal outfit that saw off the likes of Judas Priest live. That's not to say the band have taken a backward step to any Journeyesque musings. Power lurks within. The twin guitars of original members Neil Buchanan and Andy Charters are certainly a stamp on the hallmark but the approach is not over used. We also get strong riffs and contextual soloing too.
'Rock on the Radio' is poignant. Nige Roberts ran his own successful internet rock radio station prior to taking up the singer berth and once again the emphasis is on fun and frolics with a clear aim of audience participation. 'Wanna Get High' ups the tempo with those twin guitars featuring more succinctly. 'Lost' with its Heart style rhythm ironically I feel it is indeed lost in the context of this rock n roll album.
In my anti schmalz grump, I am immediately rescued by 'Blown It' which gets us back in the groove with an interesting juggernaut of styles and clever playing which shows off the new line as a fine entity. Dare I mention funk on a rock album? As a fan of Extreme, Glenn Hughes and Mr Big, this stands up with the funkiest of the funkmeisters.
The album ends with one of its strongest tracks, 'The Game.' A walking bass and drum from Webb and Andrews gets us off to a foot tapping start. Minimalist in execution, we can already see maturity in this line up which bodes extremely well for those of us who need a little jig in our lives now and again.
The portents are fine. Marseille have over delivered on this album and UK audiences should get ready to party. This album above anything else shows that Marseille are here to stay and we can enjoy many live tours to come from a band who are steadily adding quality to their early catalogue. Buchanan can safely hang up that red sweater for good.
****
Review by Keith Thompson
---
| | |
| --- | --- |
| | Print this page in printer-friendly format |
| | Tell a friend about this page |