MARILLION The Official Bootleg Box Set Vol 2 EMI (2010)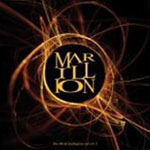 The EMI official bootleg series is a superb way of catching up with classic live output from bands like UFO, Michael Schenker Group and now...Marillion. We've already had volume 1 which surveyed the Fish years, and this latest offering concentrates on the early Hogarth era.
When H was appointed, there was much umming and aahing amongst the fans: he wasn't Fish, he wasn't the big man. What then happened is that the band reinvented themselves, partly to accommodate their new singer but also by way of natural progression. They immediately produced two of their most commercial and accessible albums: Season's End (1989) and Holidays In Eden (1991). And then a few years later they were daring enough to come up with a concept album 'Brave' (1994).
It is these three albums that are represented here, reflecting the band's main tenure at EMI, and inevitably there is a lot of duplication. It took a while for the new iteration to completely exorcise the ghost of the past and so the earlier gigs have a good smattering of early Marillion showing that Hogarth had no trouble with the Fish material and therefore cocking a snook at any doubters. H was not averse to hamming it up on stage occasionally, with or without a modified cricket bat, but more particularly during the 'Brave' set.
The Cumbria Rock Festival show from July 1991 was broadcast on the hallowed BBC Friday Rock Show and has since been bootlegged so it is good to hear a definitive version, with songs from Holidays In Eden now in the set-list.
The Wembley Arena gig in September 1992 was like a final blow for any doubters, in front of an enthusiastic crowd the band offered a quality selection of new and old, with an extra helping from the Fish era for good measure.
This 8-CD set, well annotated and in collectible card sleeves, is rounded out with a Polish gig from 1994 when they were promoting 'Brave' and four tracks from BBC radio sessions.
Marillion fans will no doubt have many of the band's own live releases via their own website, but this collection features several significant gigs from Hogarth's early years and is therefore pretty much essential. The unconverted may find too much overlap here, but nevertheless it is a wonderful live document of a band to be cherished.
****
Review by David Randall
---
| | |
| --- | --- |
| | Print this page in printer-friendly format |
| | Tell a friend about this page |