LYRIEL Paranoid Circus (2010)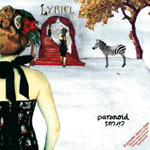 Folk metal, now there's two musical genres you wouldn't automatically put together but of late there have been a host of Celtic/folk metal bands coming to the fore. Blimey at this rate we may see the grandaddy of folk metal Skyclad come back! Lyriel are a German band who release this, their third album and in vocalist Jessi they have a truly amazing talent.
Where Lyriel differ from bands like say Mostly Autumn or more symphonic metal bands like Epica is they really do tap into traditional folk music. 'Welcome' and 'Like A Feather In The Wind' mix traditional folk sounds with a metal guitar and rythmn section to great effect.
The music is so damn catchy and has you hitting play again after the song has finished. 'Foeman's Bride' will keep the metal fans happy, although again the band cleverly add cello and violin to stop it becoming to metal for some.
'So Long, My Love' would certainly be enjoyed by fans of Mostly Autumn and again the song shows just how good Jessi's vocals are. For a good metal flavoured jig look no further than 'The Wheel Of Fortuna'.
A truly amazing musical journey from a band who should do well on the back of this album. I'd be very surprised if this album doesn't make my year end top 20!
****½
Review by Jason Ritchie
---
| | |
| --- | --- |
| | Print this page in printer-friendly format |
| | Tell a friend about this page |
***** Out of this world | **** Pretty damn fine |
*** OK, approach with caution unless you are a fan |
** Instant bargain bin fodder | * Ugly. Just ugly
get ready to rock is a division of hotdigitsnewmedia group