LUNIK Small Lights In The Dark (2010)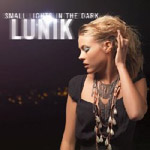 Treading the pop/rock crossover tightrope is a precarious game plan. But Swiss group Lunik (JaŽl Krebs (vocals), Luk Zimmermann (guitars), Cťdric Monnier (keyboards), and Chrigel Bosshard (drums)) aren't new kids on the block and haven't arrived at this critical point in their career by accident.
Formed 13 years ago, originally as a trip-hop outfit, only Luk remains from original line up, but by the release of their debut album Rumour in 1999, female singer songwriter and front woman JaŽl had joined (forming an enduring nucleus with Luk) and the band soon began to alter course into more commercial territory.
Over the course of four studio albums, a live album and a Best Of, the band have built big followings in Italy, Germany and Switzerland with their break through album Weather (2003) and Preparing To Leave (2006) reaching gold and platinum status respectively. That success has led to the point where, with the release of Small Lights In The Dark, Universal are prepared to invest $3m in breaking the band in the US. Now, that's series money in the current economic climate.
American producer Bob Rose has been brought in for Small Lights In The Dark - presumably to add a US radio friendly sheen - likening the band, in terms of pop/rock crossover potential as being in the same league as Fleetwood Mac and Blondie. Hold the bus, Bob!
But he may not be so wide of the mark. Singer / songwriter JaŽl Krebs cites her influences as including Sharleen Spiteri, and GRTR! favourites Nina Persson of The Cardigans and Tina Dico. Distinguished company.
So does Lunik/Small Lights In The Dark live up to the hype? Well, they've certainly got all the component parts - a shapely blue eyed blonde and photogenic front woman in JaŽl, and the first single to be lifted from the album - People Hurt People - is a shimmering piece of radio friendly pop/rock packed with melody and hooks.
But in many ways, the finest moments of the album lie in the less obviously commercial tracks - for example the opening Everything Means Nothing - a wistful and moody ballad with some lovely breathy vocals, and the reflective How Could Tell You, both of which have US prime time TV series soundtrack potential. Diary is another gentle and broody standout, as are the beautiful I Never Said That I Was Perfect with its subtle percussion and Spanish guitar, and the string backed album closer Set You Free.
Comparisons with Fleetwood Mac and Blondie status may be premature and setting the bar too high, and while Lunik still have a distinctly European feel it's easy to see how their charms could, with the right exposure, make waves on the other side of the pond.
***½
Review by Pete Whalley
---
| | |
| --- | --- |
| | Print this page in printer-friendly format |
| | Tell a friend about this page |