THE LOZ NETTO BAND Bridge Of Dreams Feral Boy Records (2010)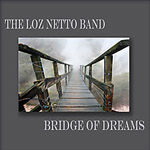 Best known for his stint in the chart topping Sniff & the Tears, the former Ben E King and Moon guitarist Loz Netto has enjoyed an interesting if not stellar solo career, with a handful of albums for major labels, backed by industry big hitters. And yet a vital breakthrough has eluded him. He's worked with a handful of soul stars including Ben E King, recorded for George Martin, been signed by Atlantic's Ahmed Ertegun, produced by Colin Thurston (Duran Duran) and he even got himself a deal with Gene Simmons's label for some movie soundtracks.
And after a subsequent period spent outside of the music biz he's back with an album that sparkles in parts and offers enough to suggest a sympathetic producer might just push him to greater heights.
'Bridge of Dreams is packed full of edgy 'live in the studio' workouts - the band even include a false count in on the slide led 'Am I Wrong'- and there's an undoubted bluster and real vigour to the playing, if not a slightly undisciplined approach to the vocals.
The album opens with the whammy bar dramatics of the title tack and muscularly works its way towards another highlight, a funky cover of Bill Withers', 'Use Me Up'. In between, Loz applies his husky growl to the slide led shuffle 'This is Hip', on a tightly compressed piece topped by another uneasy growl. Happily the eloquent guitar lines and his durable rhythm section see him home.
The same is true on a cover of Little Feat's 'Dixie Chicken' on which his vocal fails to imbue the song's narrative with the same amount of feel as Lowell George. The second Little Feat cover 'On You Way Up' (a personal favourite) is better and benefits from a tough rhythm track and potent slide guitar line.
'Bridge of Dreams' is a curious album because while Loz often works up a cool groove and explores a soulful vibe he is restricted in what he can do by his gruff vocals. He's got the kind of voice that could make something of a dirt sounding blues but when you are exploring funky outings and leaning into your solos, there needs to be an equally focussed vocal to act as a foil.
On the plus side, his own songs work best, from the title track to the slide led shuffle of 'Wild', which proves to an apt title for some dexterous guitar playing. When the trio kicks in they really work up a head of steam and a tension building dynamic that is thoroughly explored by Loz's dynamic guitar breaks. 'Wild' is a kick ass band at full stretch showing what they are capable of in the studio.
Loz also has a neat lyrical turn of phrase to accompany some angular guitar work. 'Tune up your sound and your vision, set your speed, better take your position'.
And that is exactly what he does and as if to square the circle the closing funky groove of 'What U Dun' is the perfect meeting of structure, harmonics and improvisation.
'Bridge of Dreams' will probably please guitar fans in general, some long time Moon fans in particular, but a guest singer might have pushed the beginnings of an interesting project to a wider audience. As it is, the trio's vibrant interplay alone merits 4 stars.
****
Review by Pete Feenstra
---
| | |
| --- | --- |
| | Print this page in printer-friendly format |
| | Tell a friend about this page |