LOTTE MULLAN Plain Jane (2010)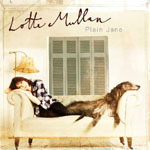 Sam Brown is the backing vocalist of choice for the world's best musicians - her CV featuring Pink Floyd, David Gilmour, Deep Purple, George Harrison, and Jools Holland to mention but a few. And of course, she's had a very successful solo career. But what many won't appreciate is that some her finest and most intimate work has been as the lead vocalist for Homespun - a folk venture of ex Beautiful South guitarist and songwriter Dave Rotheray. That is, until her ill health forced the project to be abandoned after 3 excellent albums.
Which brings me, in a circuitous way, to Lotte Mullan. Inspired by her father's record collection containing gems from the likes of Rickie Lee Jones, Bobbie Gentry, Kirsty MacColl and The Beatles, and her own vocal style influenced by a throat problem and an enforced-singing ban, the 25 year old singer songwriter's first album is deliberately constructed to have a certain naivety to it, 'like a first dance, slightly awkward but enthusiastic".
It's a record she's fought tooth and nail to make through stalled label deals, working for a major label (to find out how they work), becoming a PA, a radio plugger, and a tour manager (booking herself support slots in the process), and whenever she could, finding time to work on her debut album.
And it's been worth the effort. Recorded over two weeks, each song done mostly live, and with a song recorded and mixed each day it's an album that falls into the quirky post Lilly Allen singer songwriter genre but, like Homespun, is rooted in folk with Lotte's wistful, Sam Brown style delivery, making her confessional story telling an intimate and quintessentially English experience seldom heard in these Pro Tool days.
With a 'less is more' style and Lotte's vocals well up in the mix, the album is an innocent exploration of a young girl's passage to womanhood. From becoming coming comfortable with your own skin (the bluesy I'm Alright With Me), a quiet determination when it seems the world's against you (the breezy Fire In My Soul) and the unbridled joy of I Think They Call It Love it's a consistently strong set with other highlights being Wicked Way - a quite wonderful re-interpretation of the Ben Taylor date rape number, the melancholy l Can't Find The Words, the ukulele based When You Know, and the incredibly catchy La La Love You.
It's a dog eat dog world out there, and no more so than in the female singer songwriter market. But there's something quite enchanting about Plain Jane and it's an album that would sit comfortably next to Dave Rotheray's sadly demised Homespun. And of course, should Dave feel like resurrecting the project ...But in the meantime look no further than Lotte Mullan.
***½
Review by Pete Whalley
---
| | |
| --- | --- |
| | Print this page in printer-friendly format |
| | Tell a friend about this page |