LOS LOBOS Tin Can Trust Proper PRPCD065 (2010)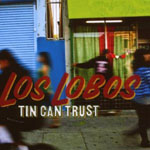 'Tin Can Trust' is the sort of CD that readily brings a wistful smile to your lips. For while Los Lobos made their name since the late 80's with a mix of rock and roll, Tex-Mex, folk, R&B, blues etc, 'Tin Can Trust' is an album on which they have raised the bar.
Yes there's a familiar mix of languid soulful jammed out blues, funk and jazzy tinged material as well as a brace of Latino songs, but there's also some real emotional depth and lyrical substance from a groundbreaking band who still have much to give.
'Tin Can Trust' is full of well crafted songs, beautifully nuanced melodies and emotive vocals all predicated on intricate instrumental work and insistent percussion. But above all 'Tin Can Trust' carries the feeling of the return of a long lost lover, or at the least a very good friend who despite the time gap instantly reaffirms their qualities.
The mellifluous opening groove of the David Hidalgo/Susan Tedeschi duet 'Burn It Down' is a standard bearer for an album that has a meandering ebb and flow full of undulating melodies, understated but redolent solos and consistently superb singing.
In fact at times 'Tin Can Trust' sounds like the album Steve Winwood never made as evidenced by 'On Main Street', with its lyrical expression of contentment, and the bass-drum heavy, gentle swaying melodic groove of the title track. Hidalgo's aching voice evokes a lover's lament on a song full of subtly layered sounds and Loui Perez's lyrical drumming which shapes the number perfectly. The belated guitar flourish provides the perfect finish.
Then there's the magical sonic quality of 'Jupiter Or The Moon', with its ringing piano line and weighty percussive groove. David Hidalgo has a voice that carries all the emotion of a moving love song as he floats above a beautifully judged minimalist arrangement. The spaces between the echoes and chimes of a fleeting piano line and portentous stabbed chords evoke a sense of calm if not cool. This is sharply at odds with the emotional impact of the vocal delivered over a metronomic percussive beat, sonorous horn line and seamless jazzy freeform guitar break. 'Jupiter Or The Moon' is music of the spheres where each tonal inflection and each breathtaking dynamic is perfectly captured by a band at the height of its powers.
Vocalist Hidalgo further reprises the Winwood feel on an acoustic ballad the 'Lady of the Rose' which derives its sense of grandeur from a lush arrangement.
In some respects Los Lobos are also the grandfathers of the jam scene. They have the riffs and the grooves of several contemporary jam bands but choose to channel them into wholesome melodies and deep soul. But it's a stylistic option they never quite leave behind as they assuredly slip into a cover of one the Grateful Dead penned ode to John Belushi 'West LA Fadeaway'. It's the perfect crossover track that stylistically projects them from the funky echoes of Little Feat to the laid back jam feel of the Dead.
And it is this loose jam feel that they carry through to the end of a great album on '27 Spanishes' which has an undeniable Traffic feel to it. But Los Lobos wouldn't be Los Lobos without a nod to their Chicano roots. That said, while both 'Yo Canto' (actually based on a Columbian folk dance) and the conjunto/polka favoured 'Mujer Ingrata' undoubtedly reference the band's roots, they sound almost like a retro reminder of just how much Lobos has moved on.
'Tin Can Trust' is full of subtle understated musical twists and turns and inspired song writing excellence that burns a hole in your soul. This is an essential purchase for all lovers of quality roots rock and a timely reminder of the undiminished appeal of an enduring crossover band.
*****
Review by Pete Feenstra
---
| | |
| --- | --- |
| | Print this page in printer-friendly format |
| | Tell a friend about this page |