THE LEN PRICE 3 Pictures Wicked Cool Records (2010)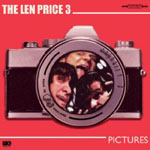 Natives of Kent's fabled Medway Delta, the output of The Len Price 3 has somehow eluded me so far but I'm mighty glad that their third album "Pictures" has made it onto my radar. Released on Stevie Van Zandt's Wicked Cool label, it's an early contender for 2010's best album - it'll sure take some beating!
Clocking in at a mere 31:07, it's refreshing in the CD age to find a new album that doesn't use up 80 minutes of disc for the hell of it. 13 short, sharp numbers is what you get here - ranging from a mere 1:57 to a whole 3:06 in length! It really is like a classic 60's LP.
The powerful opener 'Pictures' sets the tone for the album with its early Who style, and is quickly followed by the harmony-drenched gem 'Keep Your Eyes On Me'. 'I Don't Believe You' is the bastard offspring of The Who's 'Can't Explain', while 'The Girl Who Became A Machine' is an instant slab of freak-beat with some terrific organ playing.
The pace doesn't let up - if it's melodies you're after then look no further than 'After You're Gone' which sounds like a clever mashing of 'So Sad About Us' and The Kids Of Alright' with a John Lennon-esque vocal! 'Mr. Grey' works as a character-driven song as effectively as anything from the pen of Ray Davies (or the underrated Aussie band You Am I around the time of their "Hourly, Daily" long player). 'Nothing Like You' is another sizzler, while 'If You Live Round Here' is the sort of song that the Gallagher brothers would kill to write these days.
The album powers on with the gutsy 'You Tell Lies' (is that Jam-era Paul Weller on vocals?) and 'Man Who Used To Be'. The reflective 'Jack In The Greens' is a more mellow but no less melodic track. 'Under The Thumb' is, quite simply, a storming slice of R&B / raw garage pop, aided by some great harmonica playing. 'The Great Omani' (written as if being sung by the late, great entertainer) closes the album in style.
For all the Who / Kinks / Beatles / Creation / Jam / Prisoners (Graham Day from that band helps with production here) comparisons, The Len Price 3 have produced a totally fresh and original sounding record. It's even been recorded on analogue "to capture the vintage, earthy sound that only tape can provide". Yes, other bands may spring to mind while you're listening, but only in a good way - this is a mind-blowing 13 tracker, lyrically clever, killer tunes - it deserves a place in any self-respecting music fan's collection. Find out more via: www.myspace.com/thelenprice3
****½
Review by Jim Henderson
Jim Henderson presents "Power Pop" on Get Ready to ROCK! Radio, Thursday 21:00, Sunday 14:00
---